If you are not into games but need suggestions for the best gifts for your gamer friend, fret not. The Daily Fandom has compiled a list of the best gifts for gamers that will help you find the perfect present for your best mate.
List of Gifts For Gamers
Here are 12 amazing gifts that will delight any gamer!
Logitech G300s gaming mouse is a dream for all gamers. Designed in a perfect shape with an ultrasensitive touch and customization options, it is sure to provide your friend with a premium experience without burning a hole in your pocket.

God of War is one of those games that is hard to stop playing even though many hours have spent on playing it. It is considered to be one of the best games of 2018. In this game, the journey of Kratos (the Spartan God of war) continues as he travels, with his young son Atreus, through the world of Midgard.
The game is a bit different from its previous installments as it has taken some inspiration from RPG games. It offers unique melee combat, extra side quests, plenty of challenges and a gripping main storyline that will keep your friend entertained for a long time.

Just looking at this would put a smile on any gamer's face as they reminisce about their favorite old games like Legend of Zelda. We added it to this best gifts for gamers list because we believe that the 8-bit headboard has a certain charm to it that one can't really put words to.
NES classic edition is a mini version of the original NES which helps you in playing the classic games of the 90s. The gaming console is loaded with 30 games including the evergreen Super Mario Bros, The Legend of Zelda among many others.

Tryone Gooseneck stand comes equipped with endless possibilities. From clipping it to a bed frame, a desk or a chair, it is up to you how to make use of it. It provides a solid grip up to 3 inches with a solid yet flexible aluminum arm.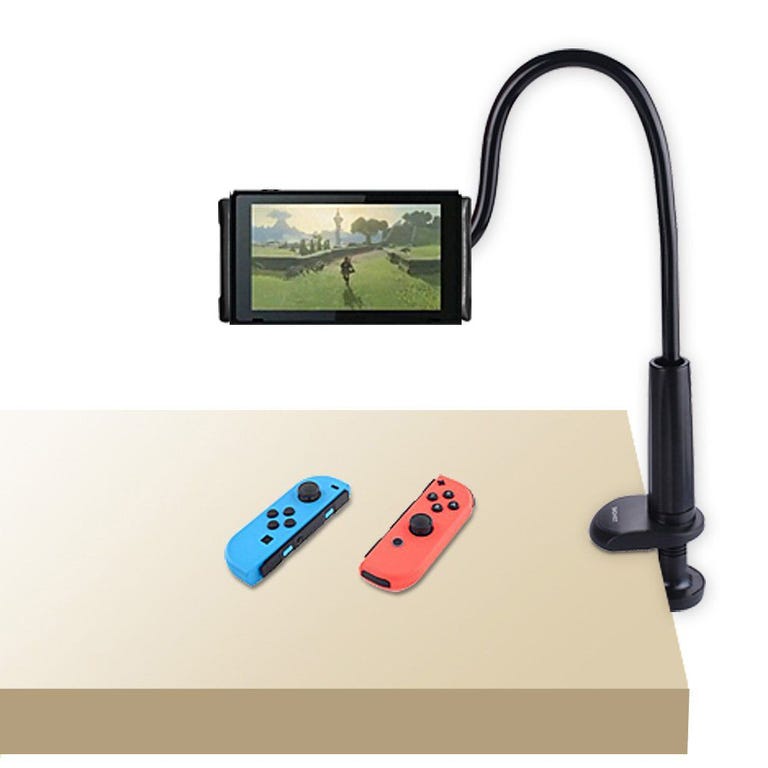 The stand is perfect for 4 to 10 inch-sized screens. This makes it a good option for a switch or a standard-size iPad. For gamers who wish to play Zelda while laying down flat in bed, this is the option to go for.

Llamas is the name of loot boxes in a popular game Fortnite. These boxes appear only three times in each match which makes them rare. This T-shirt printed with Fortnite Four Llamas is not about solving gaming puzzles, but it makes for an excellent gift for a Fortnite Fan.

Ortz Carry Case for Nintendo Switch is a portable case to protect the $300 console. It comes equipped with space for 29 games and 2 MicroSD cards.
It also comes with mesh pockets to store charging cables, earbuds, and a portable battery. This case will keep your friend's console safe from scratches, spills and all other issues that can damage it.

We believe that the Furmax gaming chair is one of the perfect gifts for gamers. It is a faux-leather chair, available in different colors. Buy the one that matches his/her desk and gaming keyboard colors. It also comes with a high back support for the spine and neck. Its adjustable design and a tilting mechanism provide for an added comfortability.
Another item in our best gifts for gamers list is the Arozzi Arena gaming desk It gives plenty of space for gamers to adjust their computer, mouse, and keyboard among other accessories.
It also comes in 5 different colors to match with bedroom colors. The integrated cable management system and a built-in mousepad make it further popular among fans. The gaming desk is wide enough to offer space for 3 monitors.

Virtual reality is expensive for many people as it requires an expensive gaming computer or a high-spec Android smartphone. But Oculus Go is different. It is a standalone headset with built-in motion tracking and display. With a 3-hour battery runtime, it provides more entertainment than Gear VR and Google Daydream.

Fans of Diablo III will instantly recognize the Sword of Justice and instantly want one of their own. When they open this gift they'll have that moment of being a kid again and will be very happy. Just make sure that they're fans of Diablo III before buying.