Writing fanfiction is a job, it is a responsibility. It takes time, skill, and the ability to come up with plots for your ongoing series, one-shot, or chapter. In the realm of fanfiction, the authors can get a faulty rep. Some say that they aren't real writers (whatever that means, we call them fanfiction writers for a reason). Some say it is not actual writing they are doing, it is simply just "entertainment." In any case, The Daily Fandom gives respect and pride to anyone who sits down and writes fanfiction. It is not an effortless task.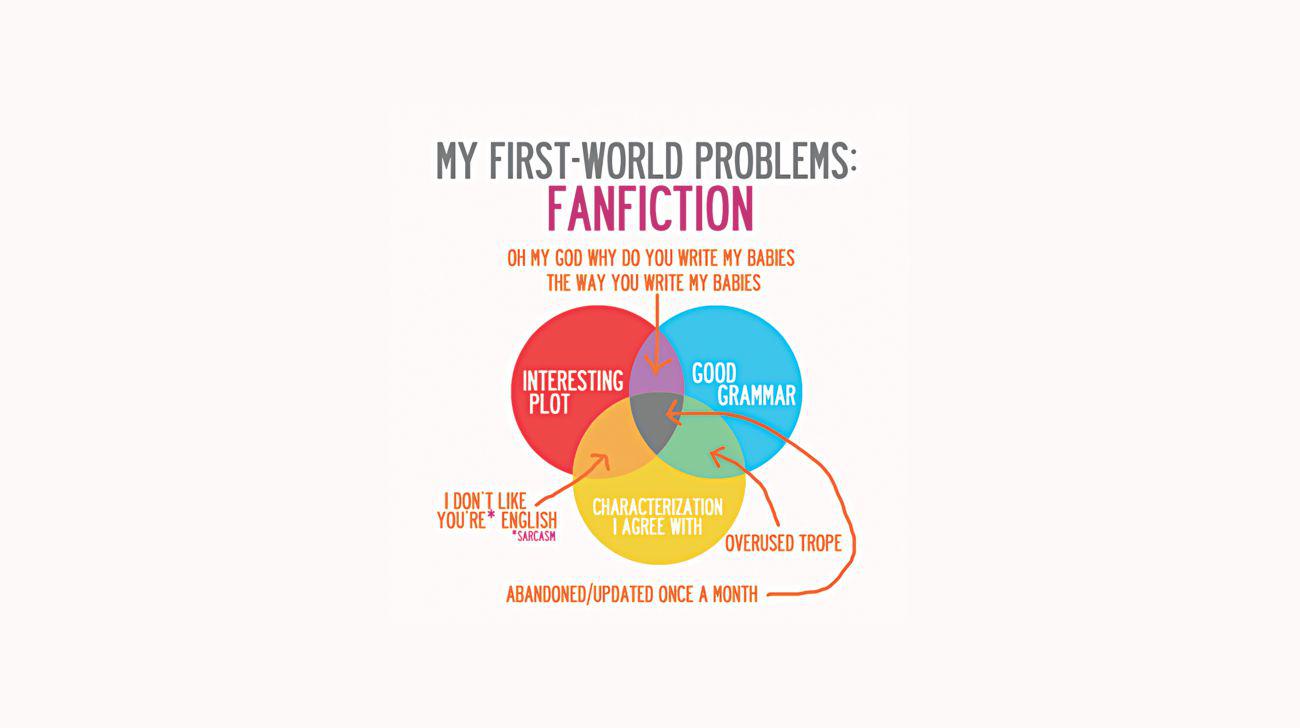 In light of that, we are going to be interviewing a set of FF authors who have taken the time (and still do) to write these incredible narratives we read. We are doing these interviews to showcase the minds behind the fanfiction you guys read. How they went through the process of writing; when they started writing FF; and how they dealt with the backlash of people not appreciating their art form. Today's interview is with the astonishing Tion Jess, known as lovelyirony.
The Journey Of Fanfiction Writers
The Daily Fandom: What made you start writing fanfics?
lovelyirony: I started writing fanfiction because there were certain storylines or characters that I wanted to know more about through a creative interpretation. A standard answer, but still rings true!
The Daily Fandom: How old were you when you started writing fanfics?
lovelyirony: I was nine or ten years old at the time.
The Daily Fandom: What's your favorite story that you have ever written?
lovelyirony: My favorite story I ever wrote was…
The Daily Fandom: What's your favorite thing about writing fanfics?
lovelyirony: People can take lines from the media they're inspired by and twist into something good or bad, fluff or angst. It's so interesting to see other people and how or why they write the pieces they do!
Lovelyirony: How To Deal With The Negativity In Fanfiction
The Daily Fandom: How do you deal with negative comments or unwanted criticism of your fics?
lovelyirony: I do usually try to take it positively, but usually it's a reply along the lines of "but you read it anyway, right?"
The Daily Fandom: We live in a time where fanfics tend to get more likes or kudos as opposed to people leaving a comment or reblogging fics. Have these types of ratios ever made you feel discouraged or made you want to quit posting or stop writing fanfics?
lovelyirony: Oh, definitely. I hate it when I've spent a long time writing and it'll get about twenty-six likes and maybe two reblogs. But I like getting prompts too much to stop.
The Daily Fandom: How do you deal with the negative stigma that comes with fanfiction and writing fanfics? The word "fandom" in itself is sort of taboo; how do you keep the inspiration to stay writing and doing what you love? (Sometimes it can be hard to even say "I write fanfic" not knowing the response you'll get.)
lovelyirony: I usually don't mention it, but I've been getting better. I usually just say I like the unique perspective that I can take on characters; after all, Marvel won't have a bookshop AU in the works!
The "Process" Of Writing Fanfiction
The Daily Fandom: Why did you pick that fandom to write fanfics for?
lovelyirony: I picked Marvel because it's what I know best, and it's one of the more…forgiving fandoms. With the variation of movies and comics and different timelines, there's more material to twist and turn.
The Daily Fandom: Is there a story you have that you would rewrite?
lovelyirony: Oh, most definitely. I would rewrite my Dads Not Required AU. I just lost the file on it off my old computer, but I would change up some of the pacing.
The Daily Fandom: Where do you find inspiration for new fic ideas?
lovelyirony: I'll usually find it off song lyrics, dialogue, or just funny moments in other books/movies/shows.
The Daily Fandom: What is your writing process?
lovelyirony: I usually think of one scene that I think would be good and write around it, or take the prompt that others give me and see how I want to look at it.
The Daily Fandom: If you could only write one ship or character for the rest of your life, which ship or character would you pick and why?
lovelyirony: I don't think I could stop writing Tony Stark. So many people see themselves in different aspects of himself, and it's so cool to also see a bit of myself in him.
The Daily Fandom: Do you have any advice for newbie fanfic writers?
lovelyirony: Read! Reading fic helps you establish what you like and what you don't like. Then with writing, keep on practicing. Write what you want, and the rest will follow. Be proud of yourself and edit!