Reeling from their first loss, the team must prepare for their final game before the big tournament. But will Liv ever forgive herself for missing the winning shot? From Carly Usdin, Noah Hayes, Eleonora Bruni, and Ed Dukeshire comes another great issue, The Avant-Guards #7!
Dealing With The Aftermath In The Avant-Guards #7
The Avant-Guards #7 picks up right after the fateful game against the Selfies. The team heads home, but Liv remains inconsolable. The next day, everyone comes to practice but none of them have heard from Liv. While discussing this, Tiffany outs Charlie and Liv's secret relationship to the rest of the team. Luckily they all support it, even Nicole who is acting a little strange.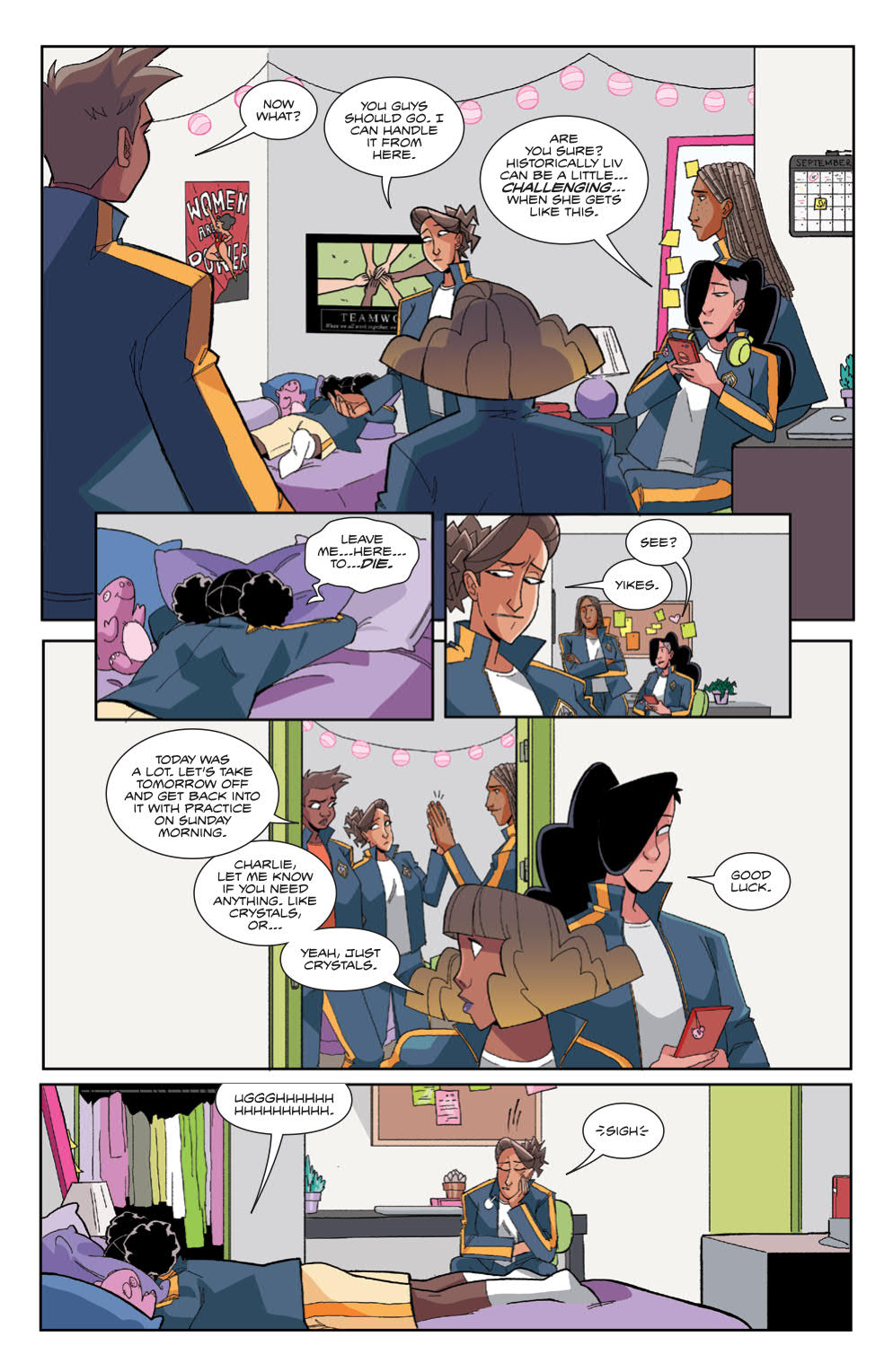 Later, Charlie recruits the rest of the team to help her cheer Liv up. Together, they put on the first Annual Olivia Bates Film Festival right in Liv's bedroom. While they all enjoy the movies, Liv remains down in the dumps. As the movie marathon ends, Charlie makes a speech about the positive impact the Avant-Guards have had on her. The team embraces her and this finally pulls Liv out of her funk.
From Lone Wolf To Team Player
The Avant-Guards #7 returns the narrative to Charlie's perspective and this time, she even gets to narrate. Her inner monologue stays fairly minimal, but you can see how she's changed since joining the team. First, we see how much she cares about Liv and wants to help her through this. Second, we see how loved and supported she feels, something that her previous team experiences lacked.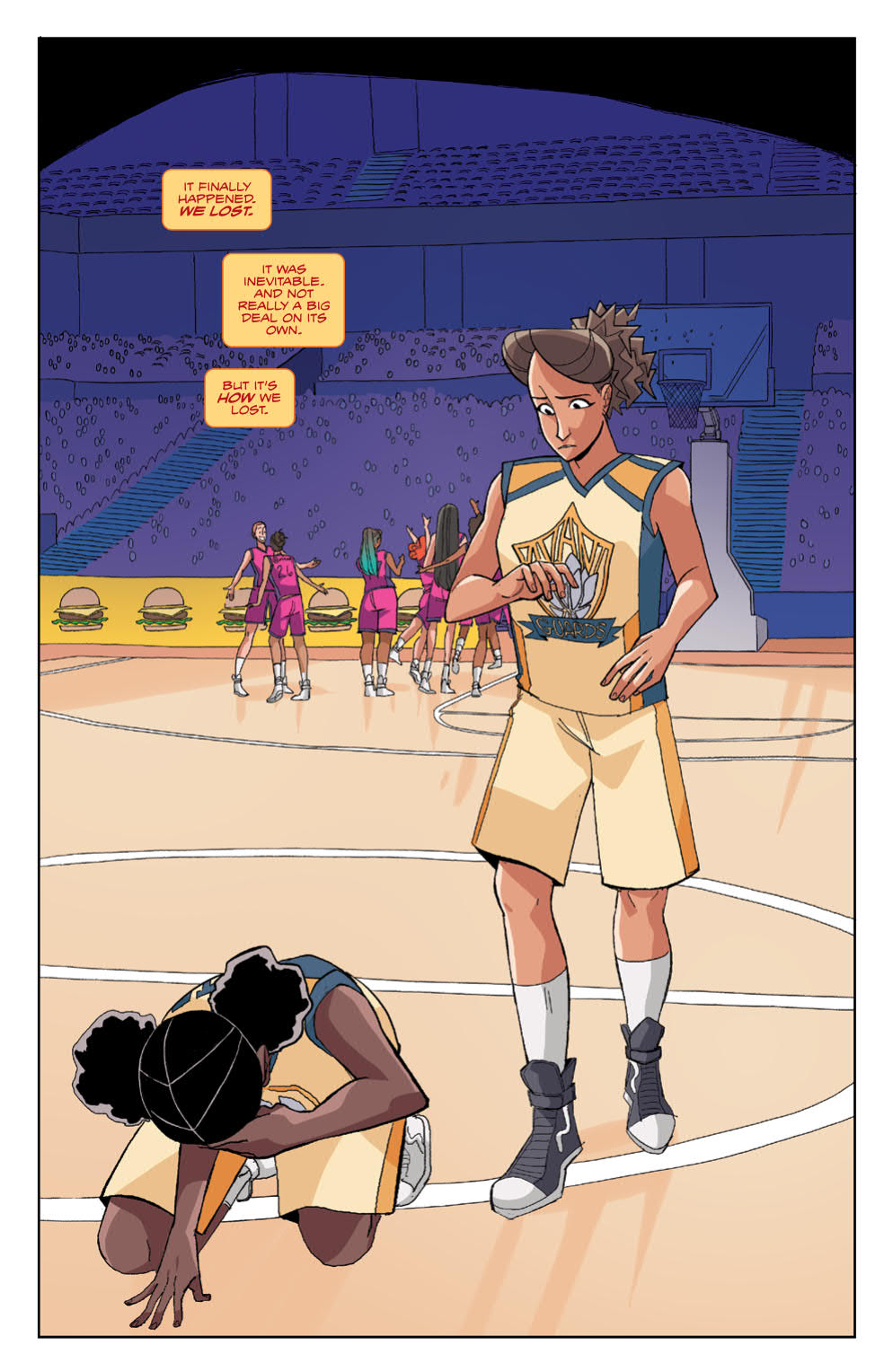 So when she wants to help Liv, Charlie knows she can rely on the rest of the Avant-Guards to assist. I also love how Liv brought the team together to recruit Charlie and the reversal of Charlie bringing them together to cheer Liv up. The parallel storytelling makes this issue both poetic and sweet.
Support & Secrets
After such a dramatic loss, I thought there would be more tension within the team. Thankfully, they leave the drama to Liv and stick together when some teams would fall apart. It's refreshing to see a team that continues to lift each other up even when things go wrong. Nevertheless, some team members continue to maintain a certain level of secrecy.
For instance, Nicole's odd reaction to Ashley and Jordan going to a comedy show. For Nicole to look up from her phone, she must be hiding something big. Maybe she'll get to narrate next month's issue. As I've been asking since issue #2, will we ever find out how Ashley broke her knee? After evading the question so many times, the story must be quite serious or really silly.
Either way, I hope we get to find out.
Team Tableau In The Avant-Guards #7
As always, The Avant-Guards #7 features some marvelous artwork full of quirky details. This issue features some great action panels with the Avant-Guards' signature polka dot background. I also like the visual repetition of Liv lying face down after she loses the game. It fits her dramatic personality. My favorite scenes from this issue, however, have to be the group panels in Liv's room. Each panel is full of details that speak to the various group dynamics. Liv, the center of attention, stays in the middle with Charlie by her side.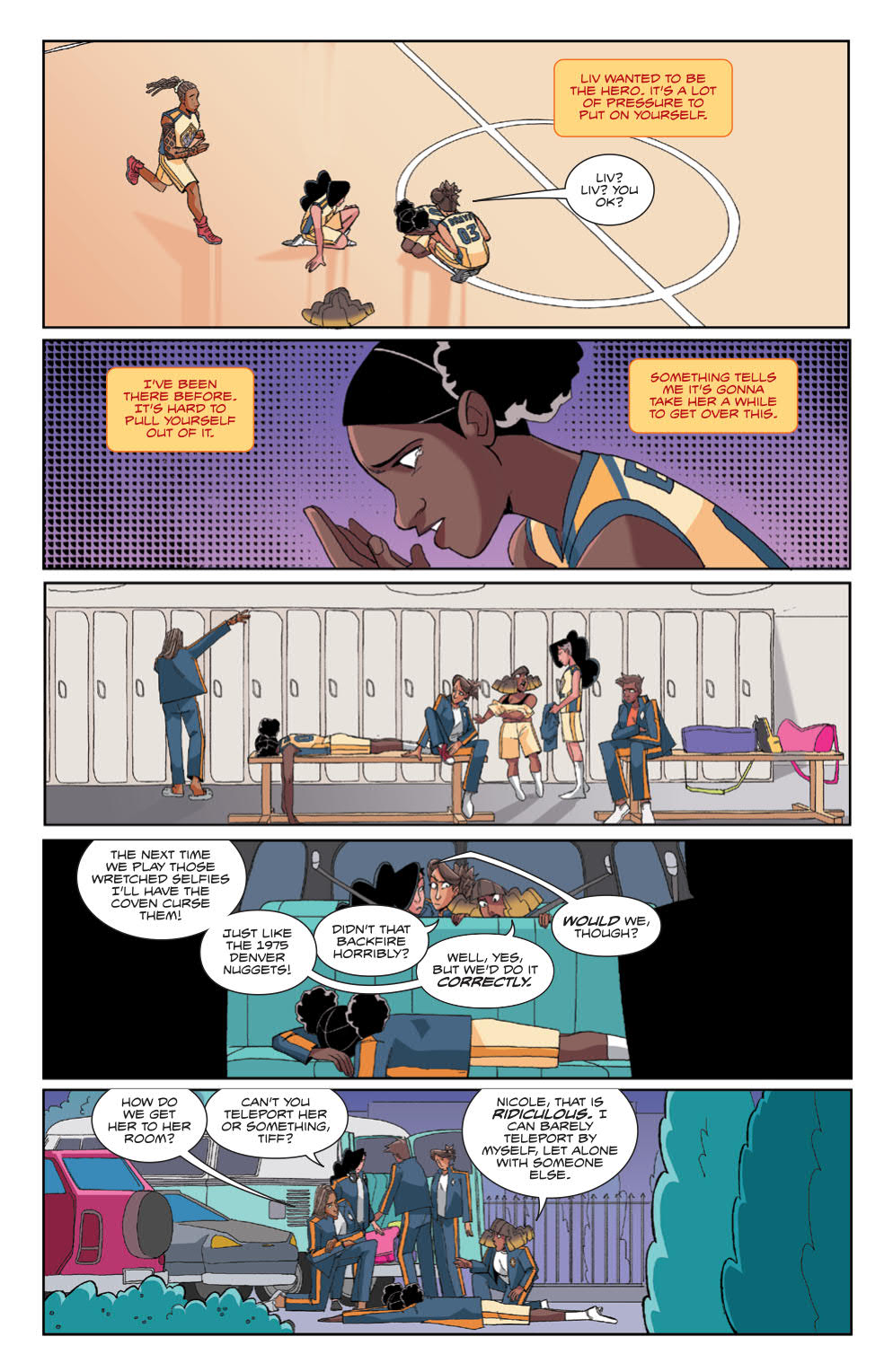 On the left, Tiffany snuggles up to Liv but interacts with everyone. Meanwhile, Nicole kicks back at the foot of the bed, keeping Liv company while still giving her space. On the right, Ashley and Jay migrate between chairs, bookshelves, and floors. As roommates, they have their own dynamic but together they complete the team. Overall, these panels show the team literally encompassing Liv with love to show their support.
Sticking Together
The Avant-Guards #7 beautifully brings the team back together after their first loss. Over the past seven issues, they've really grown into a family as well as a team. Clearly, Charlie has found a group of friends she can count on and be open with. She's opened up a lot since issue #1 and she sweetly rallies the team to help Liv. I've loved watching their relationship grow and, unsurprisingly, so has the team. With one more game to go, will they lose again or will they come back stronger than before? Find out next time in The Avant-Guards #8!
The Avant-Guards #7 by Carly Usdin, Noah Hayes, Eleonora Bruni, and Ed Dukeshire
A Heartwarming Break
This is issue was so much fun to read! I really like seeing the emotional journey that the team is going on, especially Charlie and Liv. We've seen Liv be the one who makes grand gestures, but now we get to see Charlie make one of her own. I mean, who wouldn't want to have their own personal film festival? I love watching them and I can't wait to find out what happens next!