Things take a dramatic turn in this month's issue featuring the team's coach, Ashley! The team remains undefeated, but how long can their winning streak last? From Carly Usdin, Noah Hayes, Rebecca Nalty, and Ed Dukeshire comes another awesome chapter, The Avant-Guards #6!
The Plot Thickens In The Avant-Guards #6
Like last month's issue The Avant-Guards #6 focuses on one character's perspective, Ashley. While she makes a great coach, she yearns to be a full-fledged team member. Happily, the Avant-Guards win against both the College of Endocrinology and the Royal Academy of Punk Rock.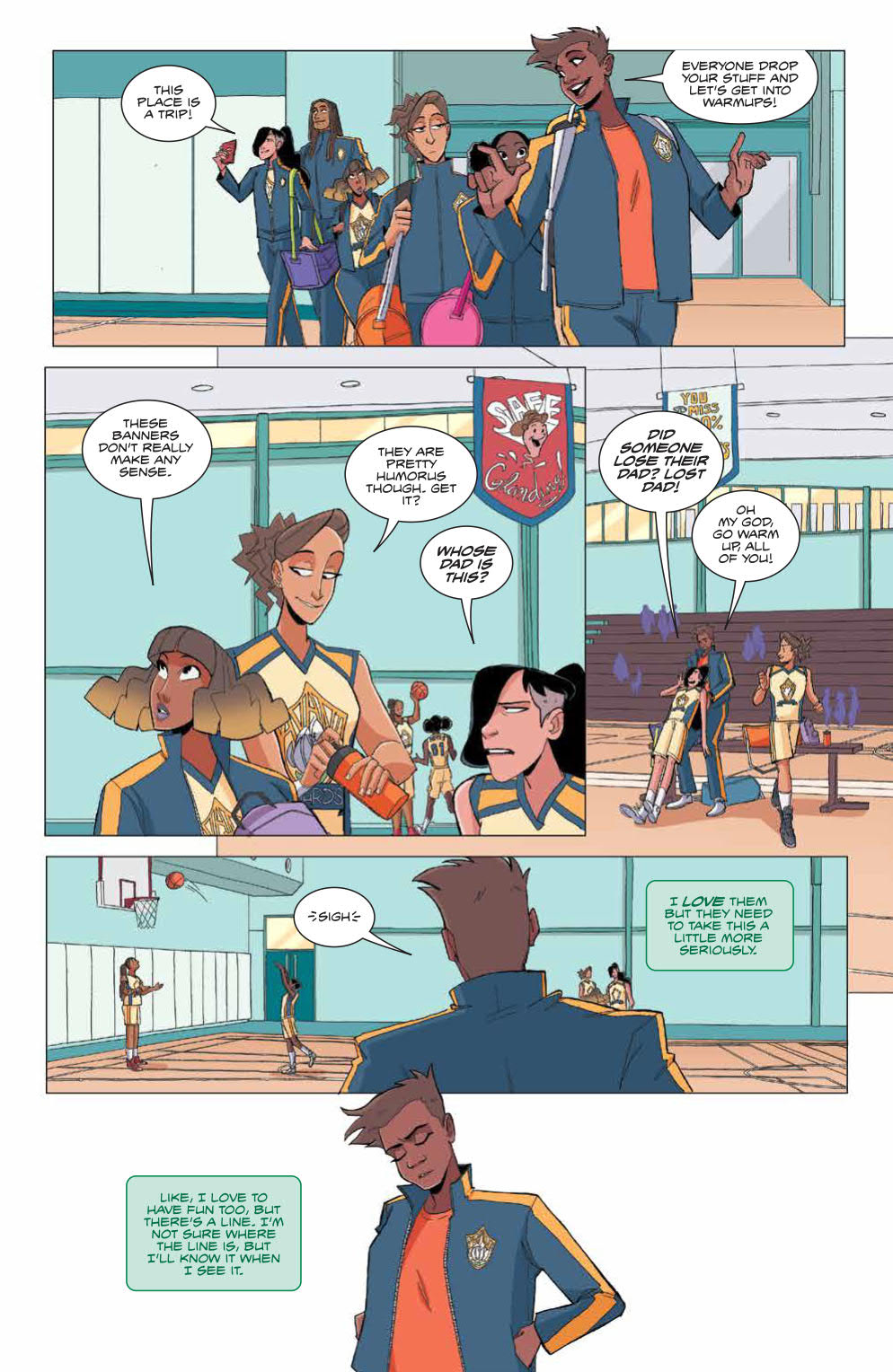 The following night, they celebrate Ashley's birthday. Ashley shows off her vocal prowess in front of her team as well as her crush, Jordan. Unfortunately, tensions rise when Liv brings up preparations for their game the following day. Wanting to enjoy her birthday, Ashley forbids any more basketball talk and Liv leaves early. The next day, they face off against the only other undefeated team in the league, the Selfies. In the end, Liv misses a shot that would've tied the score and the Avant-Guards lose.
The Secret Life Of Ashley
The Avant-Guards #6 comes from Ashley's revealing point of view. Surprisingly, her narration is rather serious and dramatic compared with the other characters' inner monologues. While Liv and Jay's respective narrations easily fit their personalities, Ashley's does not. In fact, she stands out because her narration contrasts so greatly with the image she projects. Like Liv, she appears to be quite happy and optimistic but her inner monologue reveals how much she hides her true feelings. In the past, she lightheartedly brushed off questions about her broken knee. We still don't know how it happened, but we know now that it affects her emotionally. I really appreciate getting to see this side of Ashley that no one else gets to see.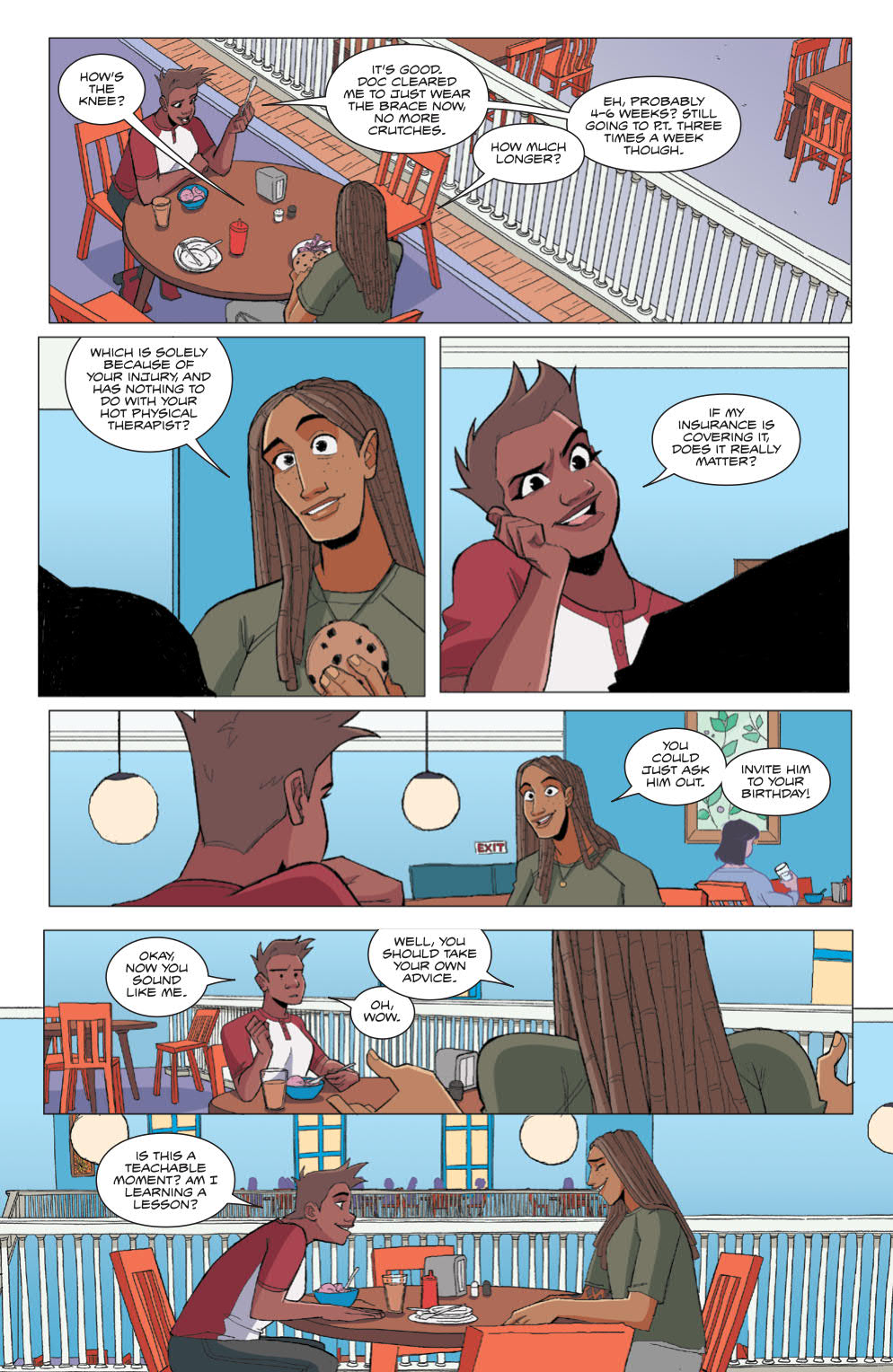 In The Avant-Guards #6, we also get to see a little more of Ashley and Jay's friendship. As roommates, they're closer to each other than they are to their other teammates. This becomes most evident when Ashley sings at her birthday party. Everyone else is shocked at just how talented she is, but Jay just smiles proudly. While the others are used to seeing Ashley as their coach, Jay sees this side of Ashley more often. I also love the moment when Jay encourages Ashley to ask Jordan out. Ashley supported Jay last issue and it's nice to see Jay support her in return.
Ashley Versus Liv
This issue introduces the first non-romantic conflict between team members, namely Ashley and Liv. As Nicole has pointed out, Liv is super enthusiastic but she can also be a little controlling and pushy. Therefore, it makes sense that she would eventually clash with Ashley, the one who's in charge. Even though Ashley does take the team seriously, she also wants to maintain a certain work-life balance. She establishes this when she cuts off the basketball talk at her birthday party.
Liv means well, but she also doesn't seem to understand the importance of that balance. When Liv misses the last shot, they both obviously take it to heart. Consequently, this might bring them together but it could also drive Liv to even more extreme behavior. Either way, I doubt we've seen the last of the Avant-Guards' troubles.
The Outside Looking In With The Avant-Guards #6
The Avant-Guards #6 utilizes many subtle but important visual cues. For example, the opening sequence is much more dramatic this time. First, we see three close-up panels with sharp, narrow frames against a dark background. These panels feature only sound effects and no narration or dialogue. The issue opens in the middle of the action, then cuts to Ashley looking on. She's been placed on the outside of the action. When we finally see her face, she smiles and claps.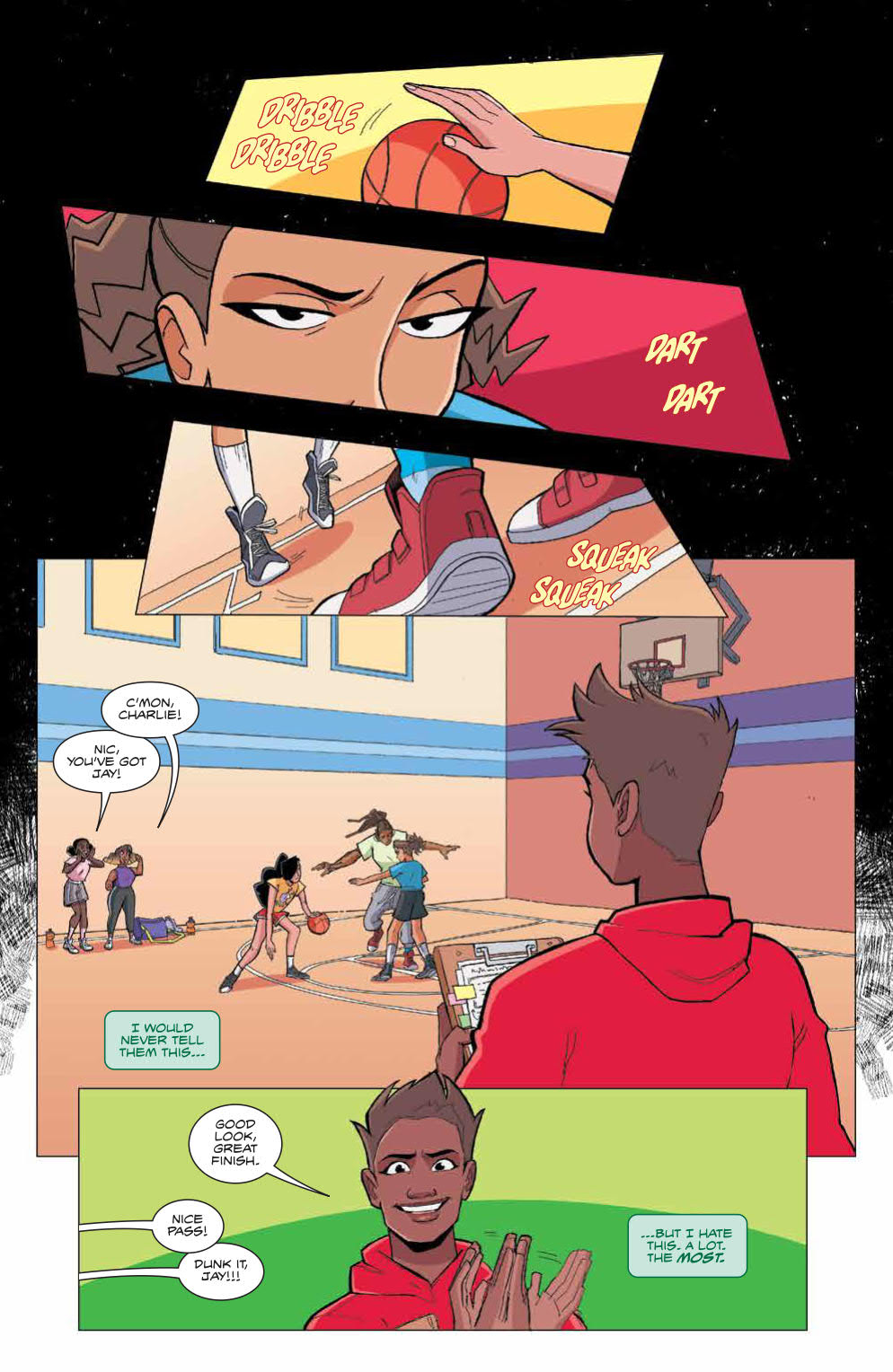 In contrast, the green background hints at the envy she feels towards her teammates. In this way, we get to see the Ashley that everyone else sees alongside her hidden feelings. These moments really help flesh out her character.
Sink Or Swim?
I've really enjoyed spending time with Ashley in The Avant-Guards #6! Like Jay in last month's issue, we get to know a different side of Ashley this time. With this new perspective, we might even know her better than her teammates do. As I predicted, things seem to be taking a downturn with the Avant-Guards' first loss. I'm interested to see how each character handles the loss and how it affects their team dynamic. Although one loss isn't the end of the world, things will probably get worse before they get better. We'll have to wait until next time to find out in The Avant-Guards #7!