Beasts and aliens and prophecies, oh my! Kamala's parents are alright but now she might be the subject of an alien prophecy? What could this possibly mean? From Saladin Ahmed, Minkyu Jung, Juan Vlasco, Ian Herring, and Joe Caramagna comes another great issue, The Magnificent Ms Marvel #3!
Welcome To Saffa In The Magnificent Ms Marvel #3
The Magnificent Ms Marvel #3 picks up right where the last issue left off with Kamala and the aliens. Although her parents remain skeptical, they decide to go with their daughter to space. On the planet Saffa, Kamala and her parents meet the ruler, Maliq Zeer, and they listen to the prophecy. Long ago, the Destined One freed the people of Saffa, who were enslaved by unknown forces. She vowed to watch over the planet before she left.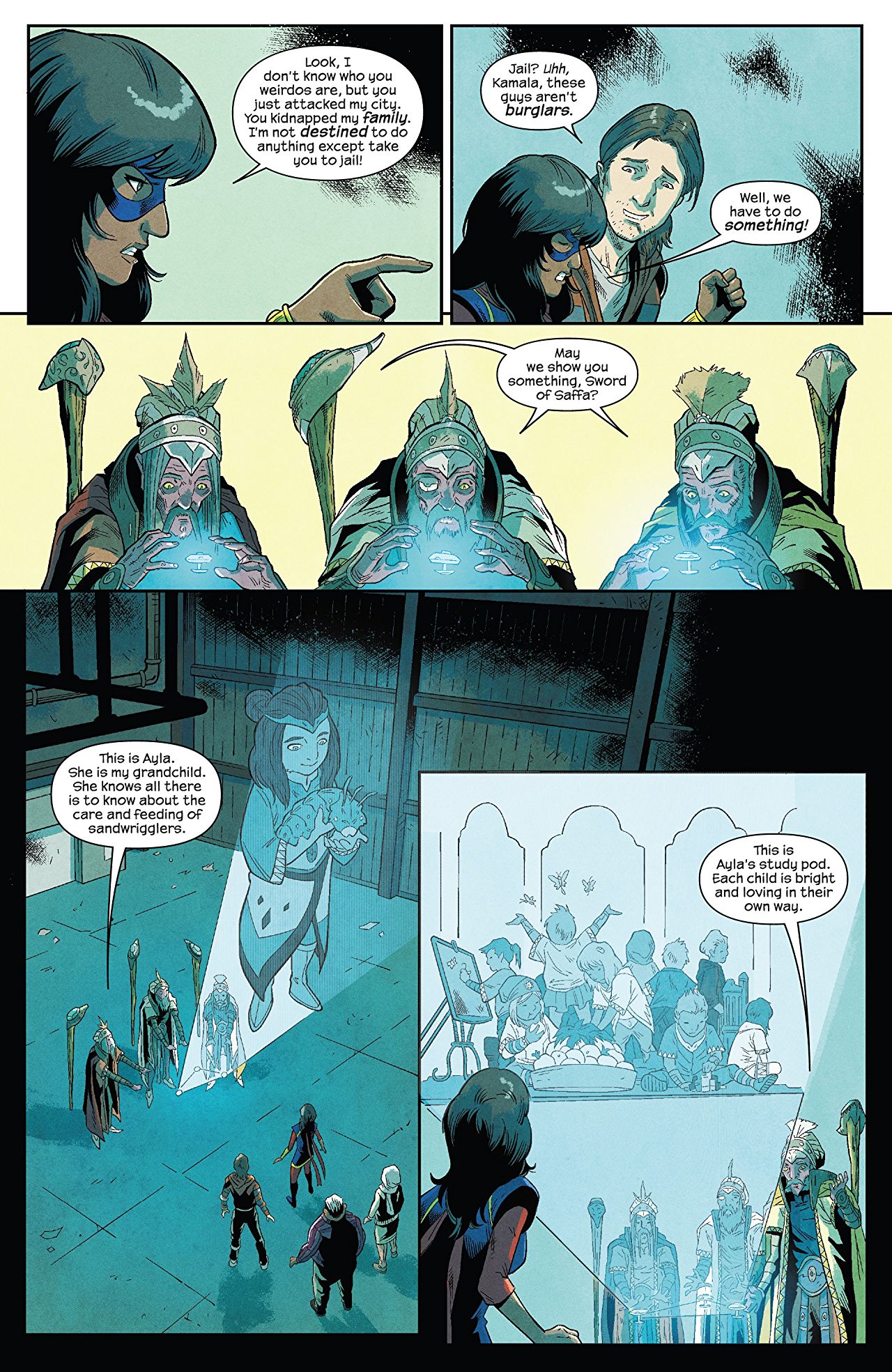 Now, the Saffans believe that the Destined One will return to protect them again from the Beast Legions. Later that night, Kamala discovers a prisoner being tortured for information. After she saves him, the prisoner, Cheb Hura, tells her that she can't trust Maliq Zeer. They get her parents and steal a skycraft but before they can escape, Maliq Zeer blows up their ship. How will they ever survive?
The Mind Of A Mother
Every issue thus far features a different narrator and this issue is no exception. Kamala's mother, Muneeba Khan, narrates The Magnificent Ms Marvel #3 and she has plenty of wisdom to share. Like with Bruno, we really get to know Kamala through her eyes. Obviously, she loves her daughter and is incredibly proud of her. Muneeba really isn't as against Kamala being a superhero as her husband is.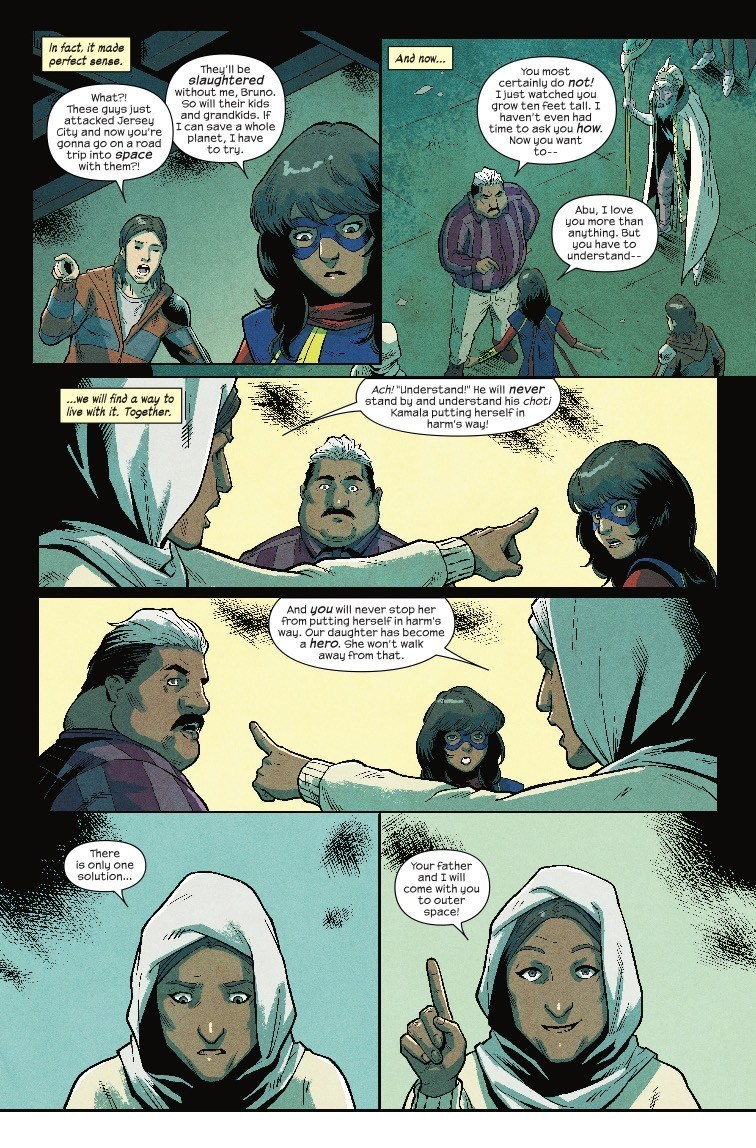 Nevertheless, she still wants to protect her daughter. She keeps Kamala in check when she starts to let the attention go to her head. Like most mothers, Muneeba also doesn't trust Kamala's new shirtless alien friend yet. But through everything, she stays by Kamala's side. All in all, I really enjoyed getting to see her perspective and seeing just how much Muneeba loves her daughter.
A World Of Mystery In The Magnificent Ms Marvel #3
Speaking of Kamala's shirtless alien friend, Cheb Hura raises a lot of questions about the politics of Saffa. Even though Maliq Zeer claims to be the rightful ruler, Cheb Hura seems to be leading a rebellion against him. He claims that he and his people don't believe in torture or sabotage, but can Kamala trust him? Regardless of his stance, Kamala clearly can't trust Maliq Zeer. He was already suspiciously calm about sacrificing one of his own to get Kamala to Saffa. Now he blows up their skycraft, potentially killing everyone inside. Since all four passengers are on the cover of next month's issue, I expect they will survive. Still, Maliq Zeer definitely isn't as benevolent as he initially appears.
The prophecy itself raises many questions: Who are the Unseen Masters? What does the Great Machine do? Most importantly, who was the original Destined One? While they firmly believe Kamala to be the Destined One, someone else must have freed the Saffans in the past. Who could it possibly be? My guess would be Carol Danvers since she was the original Ms Marvel and also wore a lightning bolt. However, the Destined One in the prophecy has Kamala's ability to embiggen which would rule Carol out. Guess we'll have to wait to find out!
Untrue Blues
The Magnificent Ms Marvel #3 features some amazing artwork, especially when it comes to the Saffans! First off, I really like the cool color palette of both the planet and its people. The purples and blues provide a calm tone, even though turmoil lurks beneath the surface. One great sequence depicts the transport from Earth to Saffa.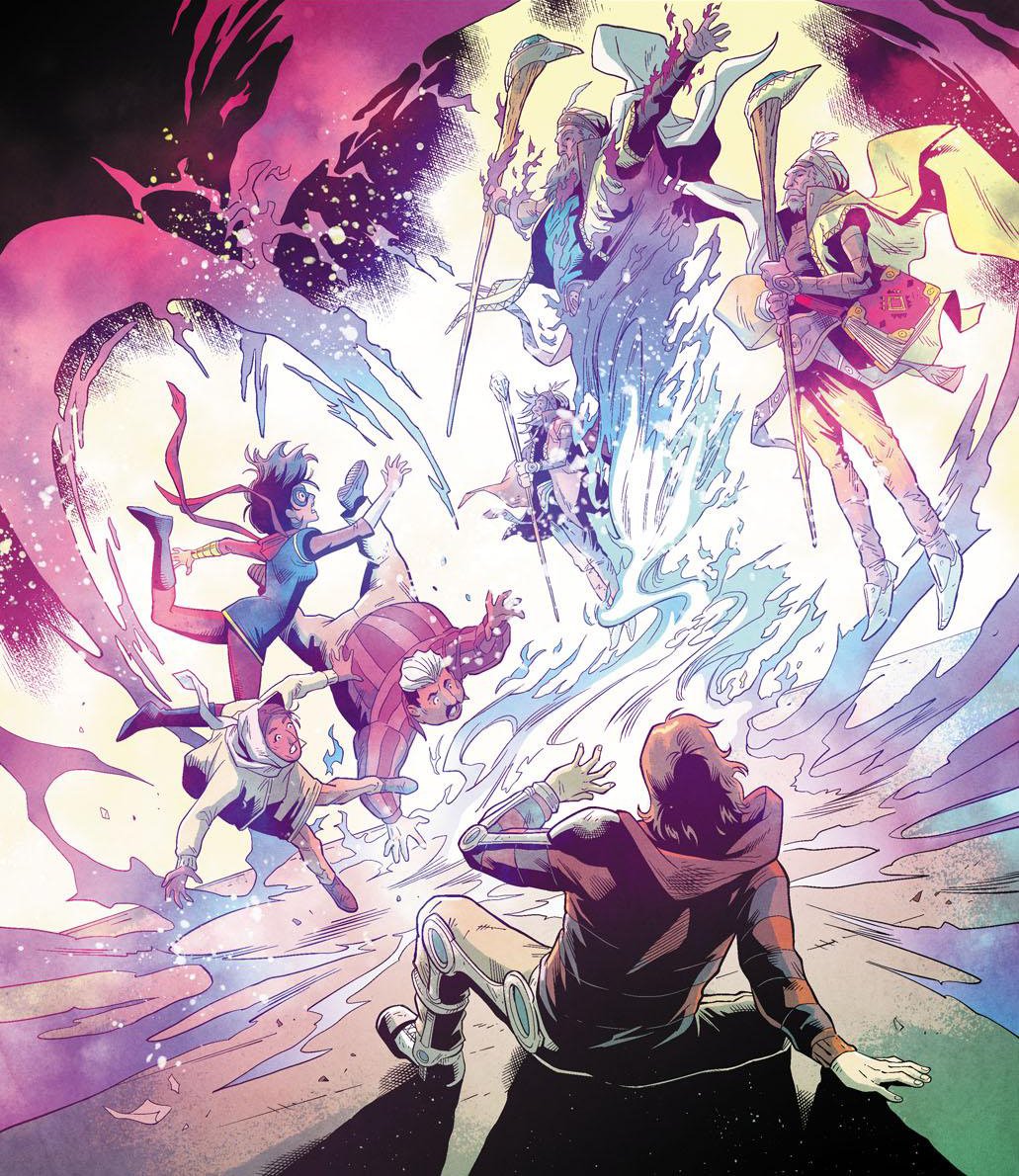 The panel bursts with pinks, purples, and blues. Kamala and her parents are shocked and their bodies are all awkwardly positioned. In contrast, the three aliens appear quite powerful and regal as they gracefully float off the ground. It's such a stunning image that you might not notice the center brother being engulfed in flames. Once again, a beautiful facade hides the horrible truth.
The Khans In Space!
The Magnificent Ms Marvel #3 brings Kamala and her family to space, but what dangers lie ahead? While I'm excited to see Kamala save the world, I wouldn't trust anyone except her parents. Seeing Muneeba's perspective really informs her relation with Kamala. Assuming they all survive the explosion, maybe we'll get some narration from her father's perspective too. We'll find out next month in The Magnificent Ms Marvel #4!