As a teenage superhero, finding time to relax can be difficult, especially when zombies hijack your day off. How will Kamala get out of this fix? From Saladin Ahmed, Joey Vazquez, Ian Herring, and Joe Caramagna come another exciting issue, The Magnificent Ms Marvel #7!
Kamala's Almost-Day-Off In The Magnificent Ms Marvel #7
The Magnificent Ms Marvel #7 marks the beginning of a new arc. With her father's illness hanging over her, Kamala struggles through her school day. Bruno finally brings up their almost-kiss, but Kamala doesn't want to put any more stress on her parents. Over the weekend, Zoe and Nakia take her on a day trip to get the best gyros in America.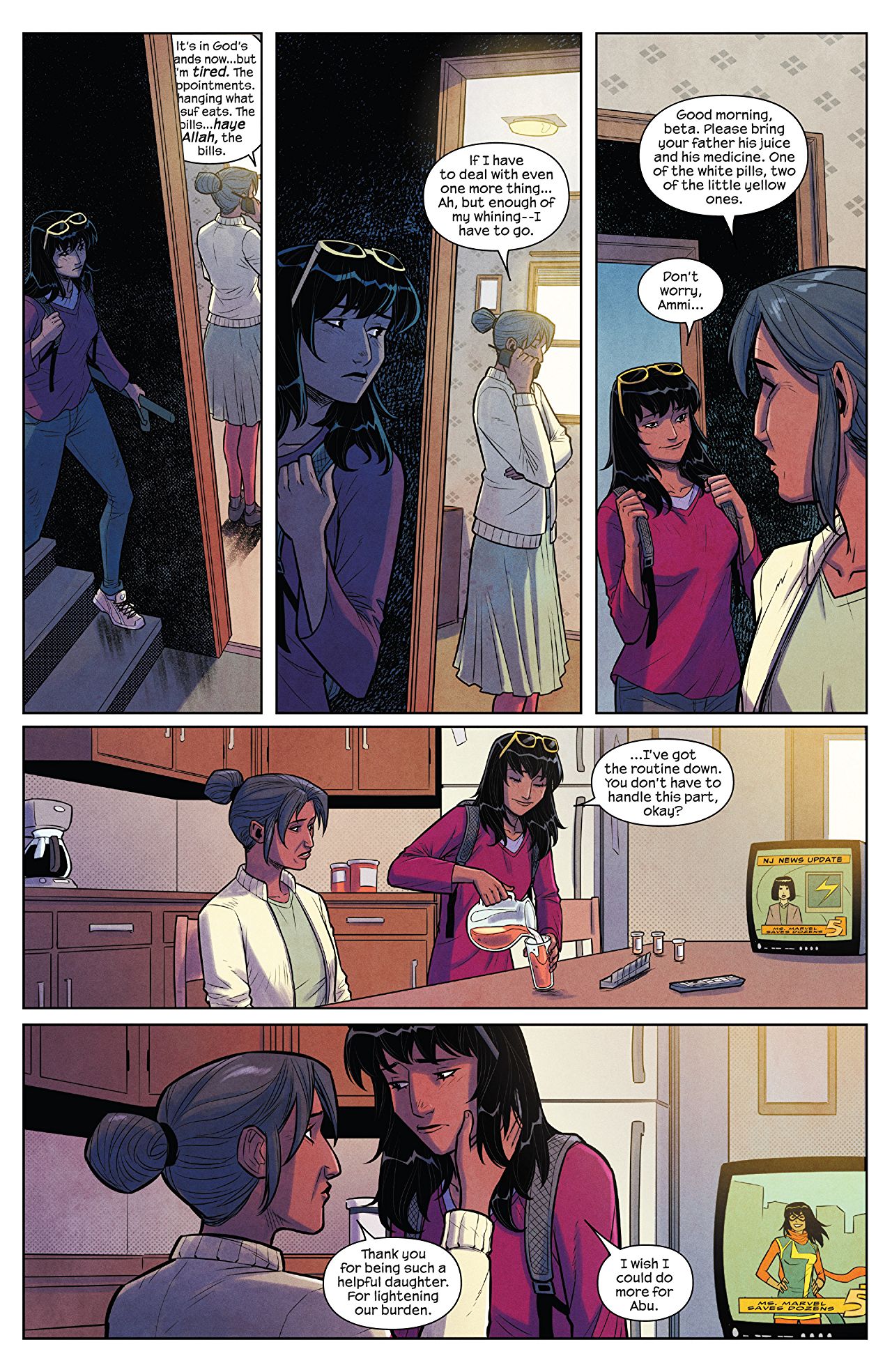 Instead, they find a hoard of zombies with Rubicon.com employee badges. They tries to escape but they run into Josh, a.k.a. Discord. Kamala tries to appeal to his humanity, but Josh refuses to listen. They fight, and just as Kamala gains the upper hand, Becky, a.k.a. Lockdown returns and threatens Zoe and Nakia.
A Dutiful Daughter
In The Magnificent Ms Marvel #7, Kamala appears to be handling her father's health situation well enough. Her inner monologue remains brief and doesn't reveal much. She emphasizes the importance of routine, even during hard times. This reflects her constant awareness of her father's ever-present illness. Even though her father wants her to live her life, she insists on putting him first. Unfortunately for Bruno, supporting her father means putting their budding romance on hold.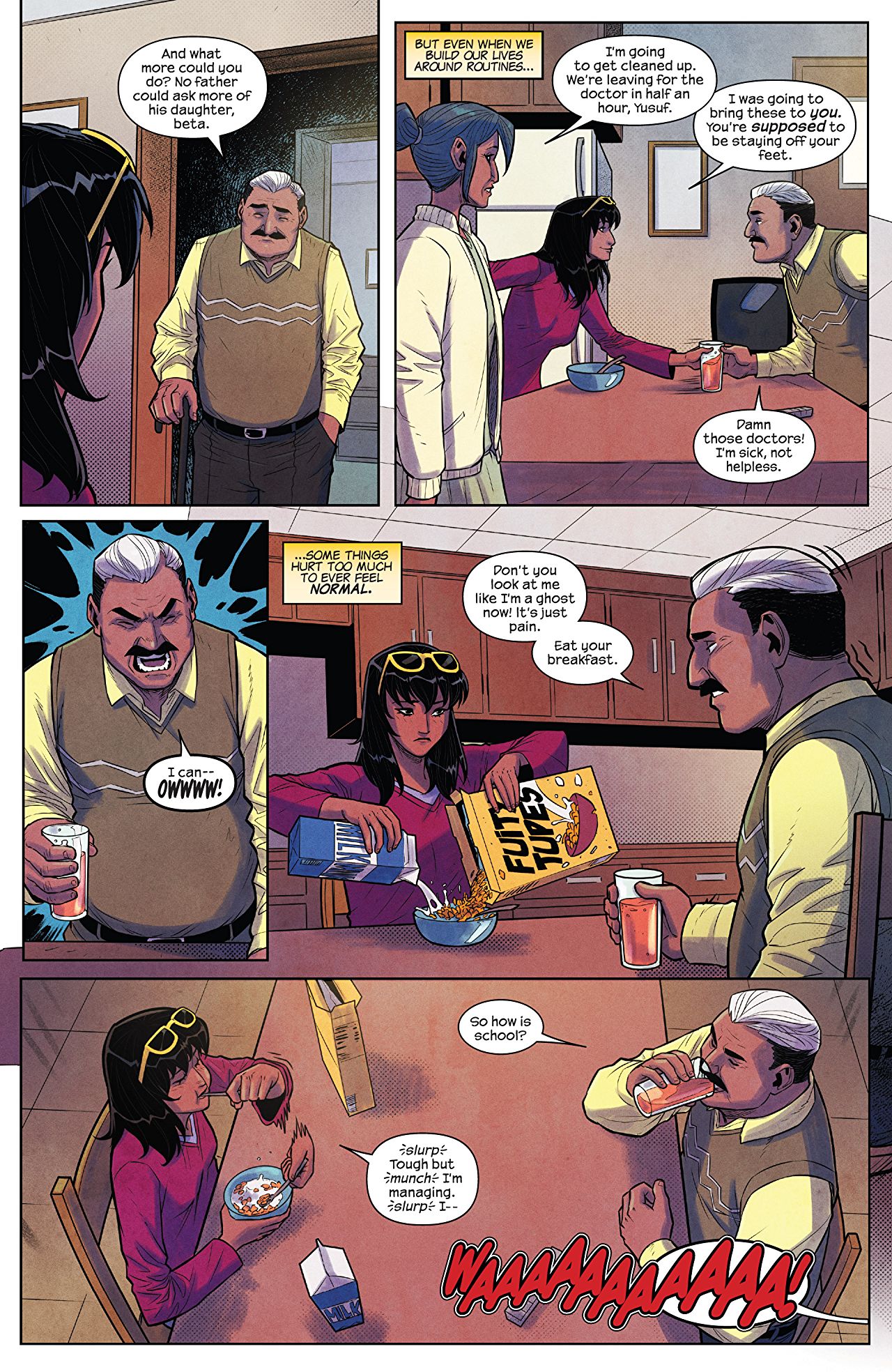 While I understand the reasoning behind this, I find it rather disappointing after so much build-up. This issue also shows us a side of Kamala never seen before. Before resorting to fighting, she tries to sympathize with Josh. But once he challenges her, she does not hold back and even becomes a little cocky. Hopefully, this is just a moment of arrogance and not a significant character development.
Old Nemeses
As I predicted, The Magnificent Ms Marvel #7 sees the return of Josh along with an army of corporate zombies. This raises several questions. Why has Rubicon.com turned their employees into zombies? They must have some goal in mind, perhaps a distraction from some other scheme. Josh and Becky both work for Rubicon too, but their motives remain mysterious. Josh appears to be taking his frustrations out on Kamala, but maybe he could have a change of heart. After all, he sympathized when her parents were kidnapped. Conversely, I doubt Becky will change her ways.
How To Take Down A Crowd Of Zombies
The Magnificent Ms Marvel #7 brings a new artist into the fold. But this is not Vazquez's first time drawing Ms Marvel and he's done an excellent job. While I would've liked to see some more new suit features, I do love seeing her transformation. I also enjoyed Kamala's new combat moves and the way her fist lights up before she starts punching.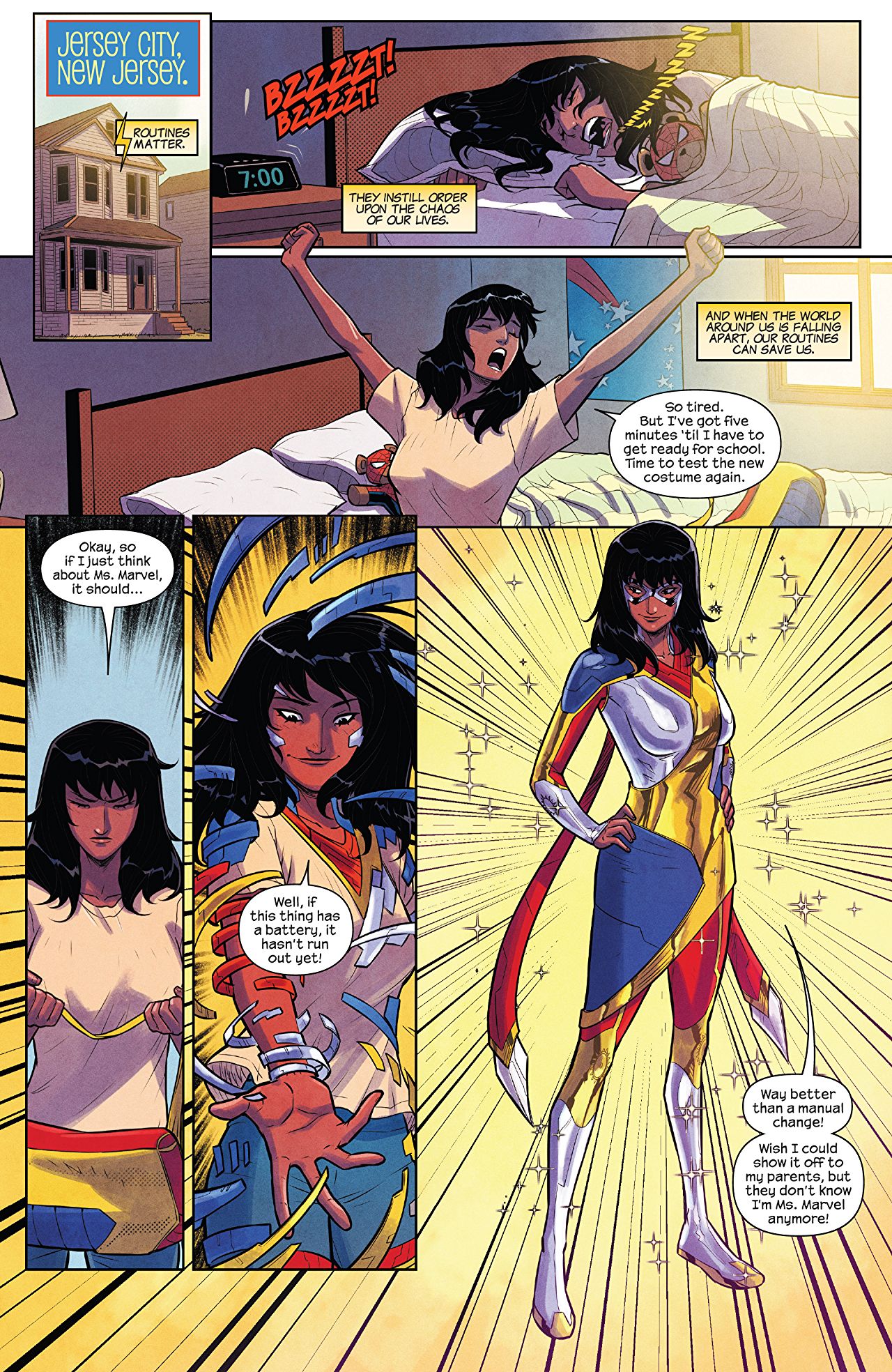 Additionally, the zombies' appearance gives us a few hints about them. Their most prominent features include drool, tears, and unblinking eyes. They show no signs of physical decay so they're probably still alive and could be saved.
The Magnificent Ms Marvel #7: Day Of The Dead-Inside
The Magnificent Ms Marvel #7 sees Kamala's day off interrupted by zombies and old enemies. Between this, her father's illness, and the pressures at school, I wonder how Kamala will manage everything. Trapped in a face-off against Lockdown and Discord, this new arc is off to an exciting start. What is Rubicon up to? Can Josh be saved or is it too late? Will Kamala sink to his level? How will she save Zoe and Nakia? We'll find out next time in The Magnificent Ms Marvel #8!
The Magnificent Ms Marvel #7 by Saladin Ahmed, Joey Vazquez, Ian Herring, and Joe Caramagna
A Fresh Take On A Zombie Apocalypse
This issue looks like the beginning of a fun adventure with Ms Marvel and friends. While I wish Kamala and Bruno would just get together already, I have a feeling we won't have to wait much longer. I'm interested to see where Josh's arc will go, especially in comparison with Kamala. I'm also excited to find out more about Rubicon.com's zombie employees. There's so much to explore!