This is not a word I throw around lightly, or hardly ever, but this comic is a masterpiece. This is the kind of work that is instantly iconic and will stand the test of time. Giant-Size X-Men Jean Grey/Emma Frost #1 has a script by Jonathan Hickman, with a story by Hickman as well as artist Russell Dauterman. Matthew Wilson provides colors and Clayton Cowles letters. Designs as always, are by Tom Muller. The cover is also by Dauterman and Wilson. There's an important credit for special thanks, given to Grant Morrison and Frank Quitely.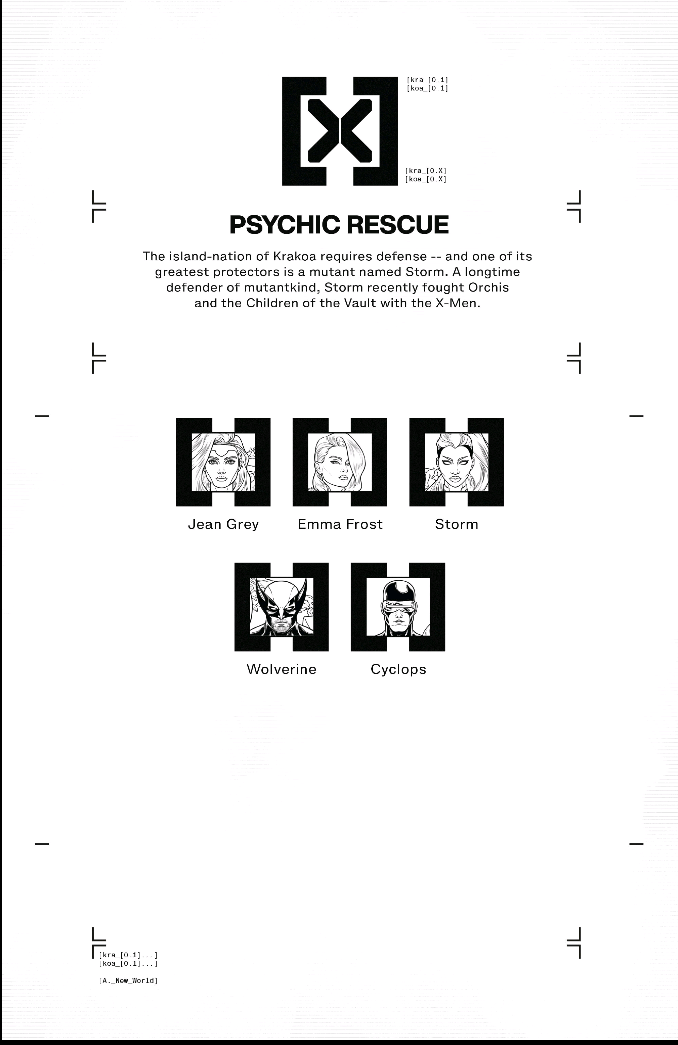 Paying Tribute To New X-Men
Grant Morrison and Frank Quitely famously worked on one of the most prolific runs in X-history, New X-Men. This issue specifically credits them thanks to their work on New X-Men #121, which this issue is very largely inspired by. Ultimately, I would call it more of an homage than say, a recreation. But very large parts of this book are incredibly similar to Morrison and Quitely's story. It's still Emma and Jean that are running the psychic rescue. It's Storm's mind they go into this time around.
Storm Falls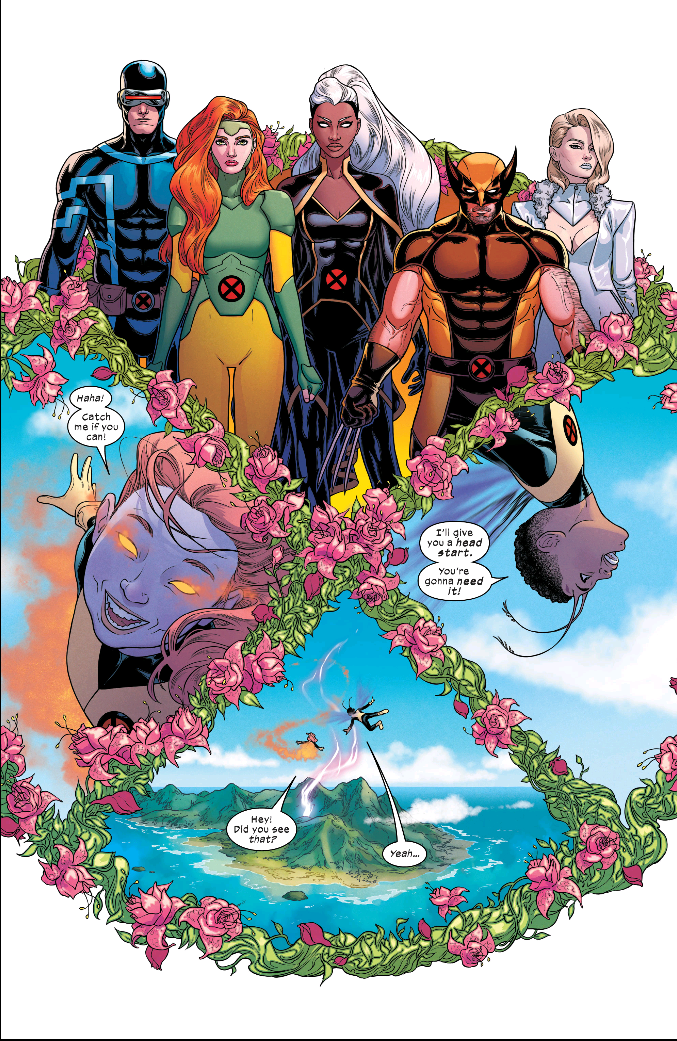 Because the timeline of the various X-books isn't necessarily linear, it isn't clearly exactly where Giant-Size X-Men Jean Grey/Emma Frost #1 fits in. It does seem to be after the first arcs of X-Men, X-Force, and Marauders at least, as they're the only books that feature anyone in this trio. Continuity is still maintained, even given this new series of one-shots, seemingly. Mutant children playing above Krakoa discover Storm on the ground, igniting the psychic rescue Emma and Jean must embark on.
Redefining Relationships In Giant-Size X-Men Jean Grey/Emma Frost #1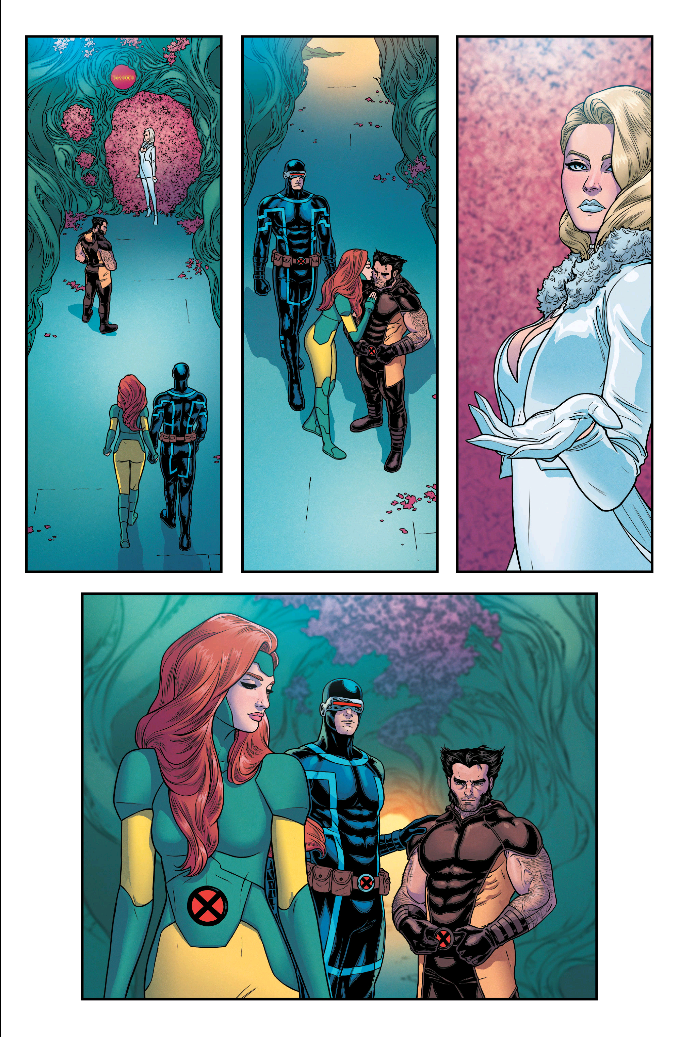 A lot of what Hickman has done with the new line of X-books, starting with House/Powers Of X, involves redefining how characters interact with each other. One of the most exciting things in all of X-Men is, you guessed it, the couples. Hickman has taken that much further, however, and pushed the boundaries on mutant relationships, without overtly stating anything. At the time of this writing, it seems like Scott, Jean, Emma, and Logan are all involved in some sort of deadlock-sex-pact and honestly? Good for them. They deserve it, and each other, after all this time. Giant-Size X-Men Jean Grey/Emma Frost #1 really highlights this more than anything.
A Visual Feast
The majority of Giant-Size X-Men Jean Grey/Emma Frost #1 is text-less. If you listen closely, you can actually still hear the sound of Clayton Cowles cheering, and Hickman breathing a loud sigh of relief. Meanwhile, Dauterman and Wilson work together in concert to bring you the rest of this comic in the most epic way imaginable. These are some of the best visuals you will see in a comic, possibly ever.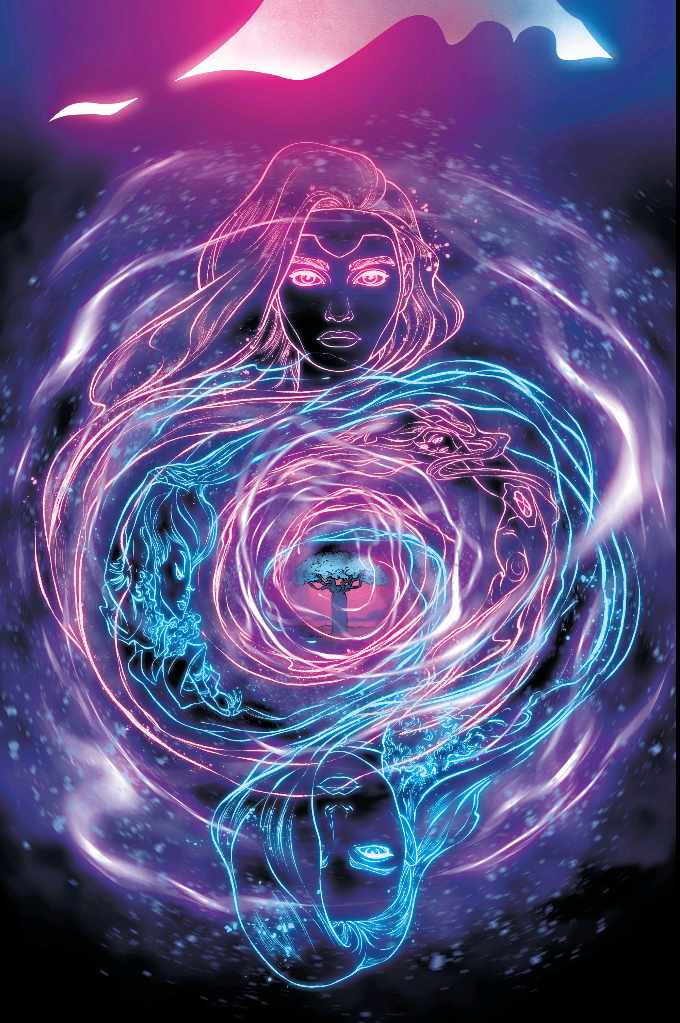 With the lack of dialogue in Giant-Size X-Men Jean Grey/Emma Frost #1, Dauterman and Wilson utilize body language for communication between Jean and Emma. A good comic book artist has a solid knowledge of how to be executing body language at all times. A phenomenal comic artist can tell a whole story with nothing but body language. These are masters at work here, at the very peak of their game.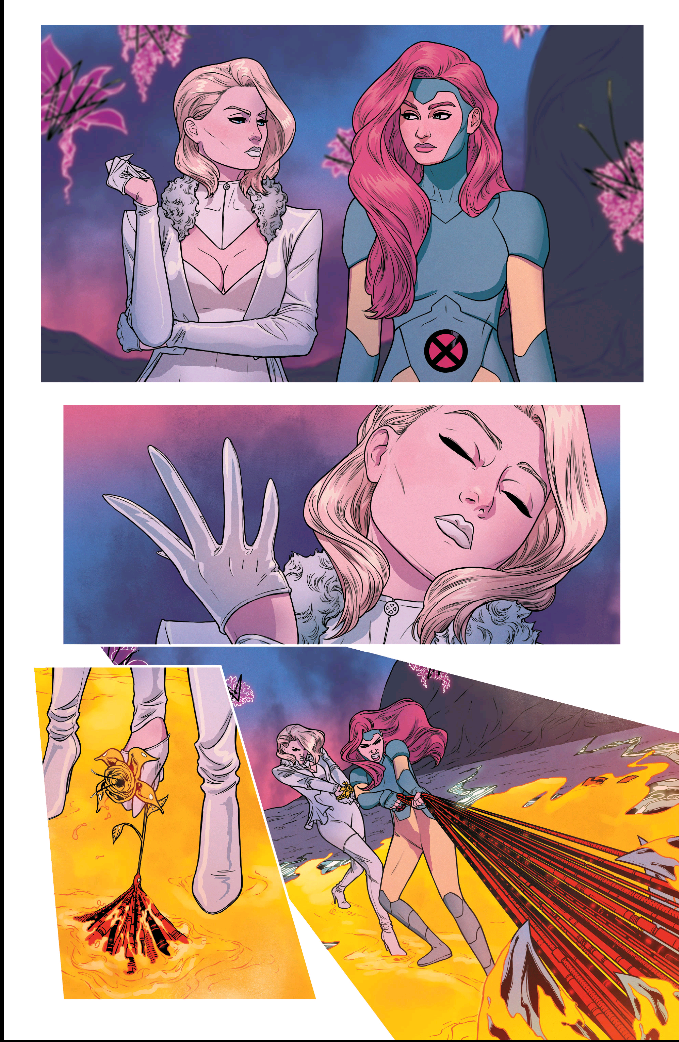 Character Designs
Dauterman's Emma designs on the covers of Marauders have been immediately iconic, but giving him the chance to flourish here was an inspired choice for Marvel and Hickman. He clearly relishes the chance to define her looks in a world where she's now one of the most powerful people in it. The sheer style and grace are unparalleled. Meanwhile, his take on Jean is powerful and sleek, reminiscent of her uniform in X-Men Red, but with a new color palette that Wilson knocks out. The way these two work together is utterly insane.
Should You Read Giant-Size X-Men Jean Grey/Emma Frost #1?
I feel like I have not made this clear enough, the art in this book is immaculate. Dauterman's art is complimented so amazingly well by Wilson's nothing-less-than sublime colors. Wilson works wonders over most anybody, but there's something special here he's capturing with Dauterman.
This is an art team that truly should not be trifled with, able to stand toe-to-toe with the most legendary and prolific artists to ever touch X-Men. This may sound like hyperbole, and I would understand that skepticism, but read this comic and you will understand. Anything that comes out with their names attached should be bought sight-unseen. This is the dynamic art duo of comics right now, and we are seeing history be made in these pages.