I've gotta say, I hated the warwolves in the original Excalibur by Alan Davis, and I continue to hate them now. They're ugly and creepy and just a bit terrifying, which makes them perfect prey for the members of Excalibur to hunt down.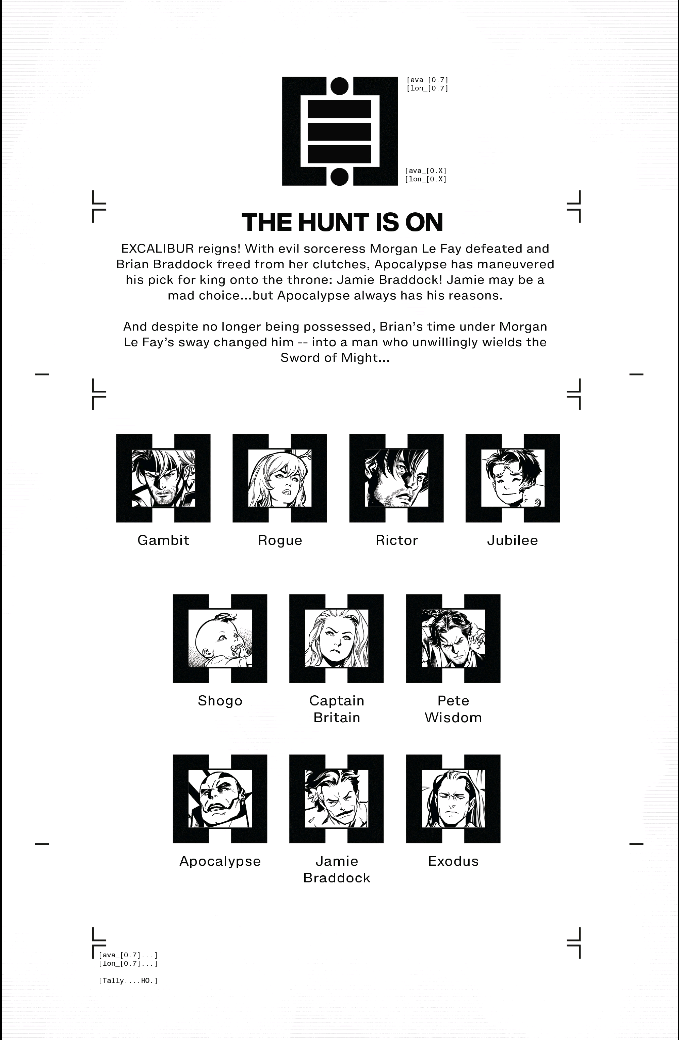 Excalibur #7 is written by Tini Howard, drawn by Wilton Santos, inked by Oren Junior, colored by Erick Arciniega, lettered by Cory Petit, with design work by Tom Muller. Covers were provided by Mahmud Asrar and Matthew Wilson.
A Whole Lotta Lore
Bless Tini Howard and just how into writing this book she is. More than any other book in the Dawn Of X, Excalibur revels in just how deep it can go in establishing its own rules. It's so evident that Tini has spent a good chunk of time thinking about the layout and power structure of the characters at play here. Betsy, of course, has gotten a power-up as Captain Britain. Jamie sits on the throne of Otherworld now. The stage continues being set for even more significant events.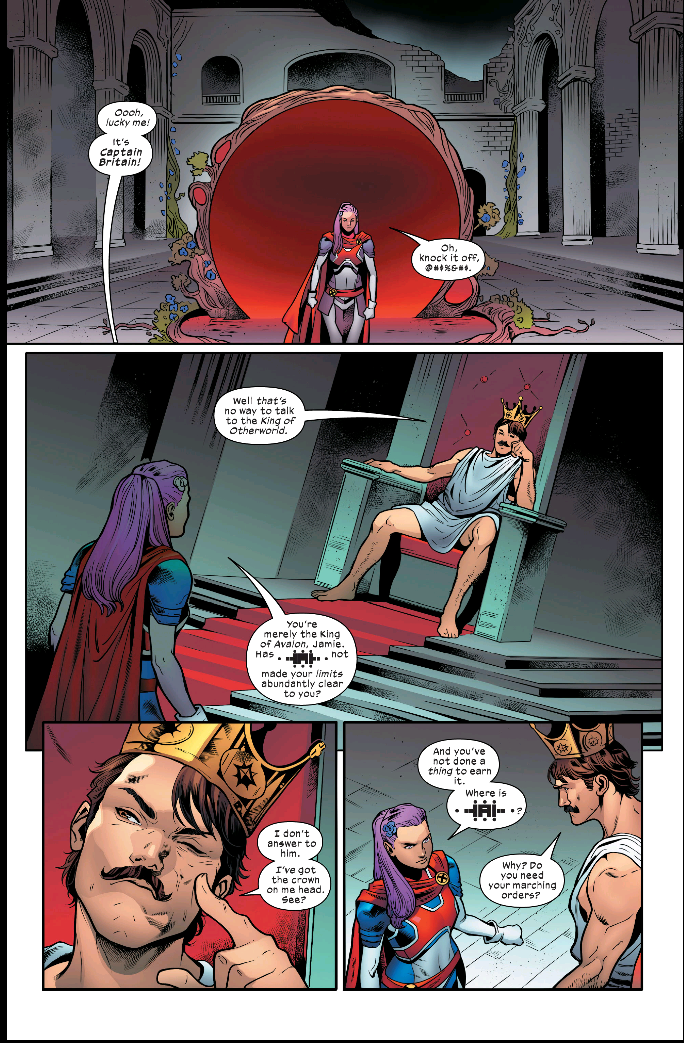 The Braddock family dynamic that's deriving from this series of events is a joy. Jamie and Betsy haven't outgrown their sibling rivalry with each other, but now it's amplified ridiculously. Apocalypse pulling the strings behind Jamie is immensely foreboding, which brings me to his grimoire. The grimoire is the coolest bit of lore in any current X-book. It's the excellent use of Muller's data pages that makes them feel a bit more authentic and fluid. I could easily read an entire comic that was just Apocalypse's grimoire. That's a testament to just how well Tini is executing it.
Excalibur #7: Warwolves Of London Zoo
Apocalypse needs the heads of warwolves because of course, he does. It is this kind of hijinks that really makes the book feel in line with the older Excalibur, while also reinventing itself for the Dawn Of X. It would be too easy if the mutants could just walk into the zoo and grab the warwolves. So the plot thickens. It's frankly cathartic to see Pete use the government against someone spewing their vitriol of mutants. Tini makes it both satisfying and hilarious, continuing her charm with Pete Wisdom.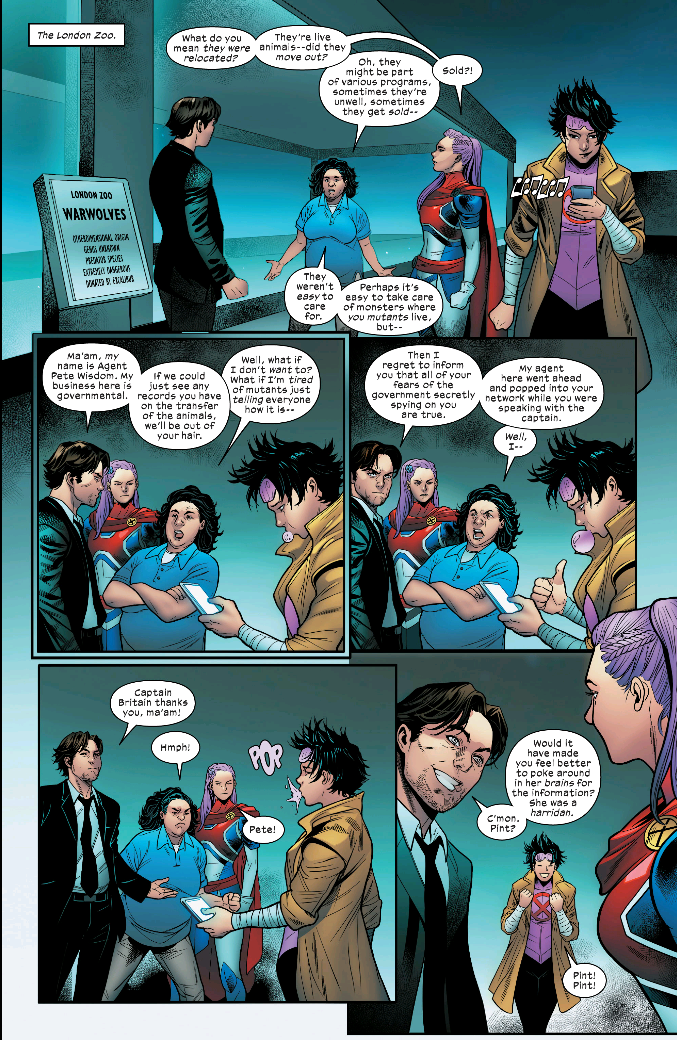 The twists don't stop coming in Excalibur #7, as it turns out the warwolves are now with Cullen Bloodstone. While he's certainly an unexpected choice for a villain here, that makes him all the more interesting. The Dawn Of X has been rife with exposing villains on all sides, both new and old, and Excalibur is a big part of that. If there's one book where you'll see the strangest array of familiar villains and characters, it's this one.
Cullen Bloodstone: Jerk
A whimsical game of sorts is proposed by Cullen, where he will hunt alongside the mutants. In his head, it's all about the sport of the game, first and foremost. He comes off as a privileged, wealthy white man, who basically says the equivalent of "some of my best friends are black, so how could I be racist?" He's dismissive and snobby as hell. You know it's going to be a blast seeing him get torn down in the end.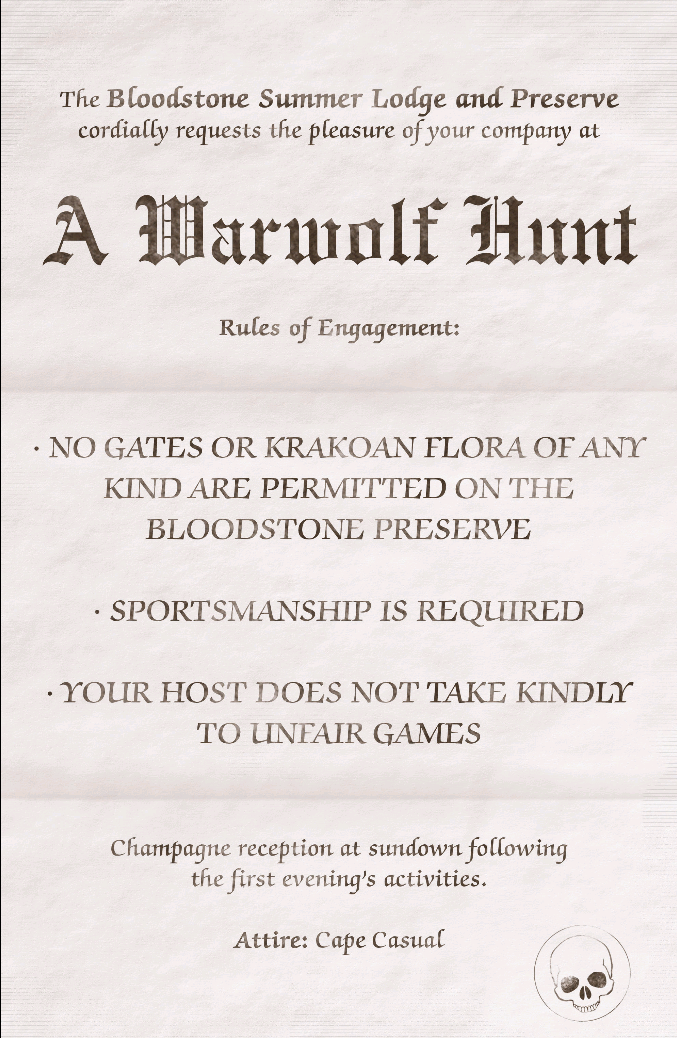 The hunt begins as the team bickers among themselves. No one is really happy to be here, but at the very least Betsy decides to make the most of it. Unfortunately, Excalibur can't step anywhere without being betrayed and so Cullen ultimately turns the tables on them. It's a fun set up for a small arc that will give us some tight action sequences. Excalibur has precious little to do with the goings-on in Krakoa, so it only makes sense for them to bet embroiled in this isolated adventure.
Final Thoughts On Excalibur #7
Santos and Junior make for a clean transition from To's work on the series. It really helps that Arciniega is consistently coloring Excalibur as well. Graceful, powerful-looking characters with impeccably pretty faces are a constant in this book.
Tini balances humor with action and heartfelt moments between the cast, which makes this one of the can't-miss series of the current X-books. Nonetheless, Excalibur fills such a niche spot that often gets overlooked in X-men, with their close proximity to magic. Battling against Cullen is going to yield an epic, magical fight that I'm dying to see.