Last month's issue (you can find the rest of them here) left us with a big cliffhanger! Why have all the games been suspended? Will the Avant-Guards get to continue being a team? From Carly Usdin, Noah Hayes, Tasha Neva, Jenna Ayoub, Rebecca Nalty, Kieran Quigley, and Ed Dukeshire come all the answers in The Avant-Guards #5!
The Avant-Guards #5: Meet Jay… Again!
The Avant-Guards #5 centers around Jay. The day after their big win, Jay prepares for another big event: their own solo art show! With Ashley's help, they hand out flyers to get the word out before practice. Much to their surprise, Liv announces that their basketball league has lost a sponsor. As a result, they may not be able to play anymore.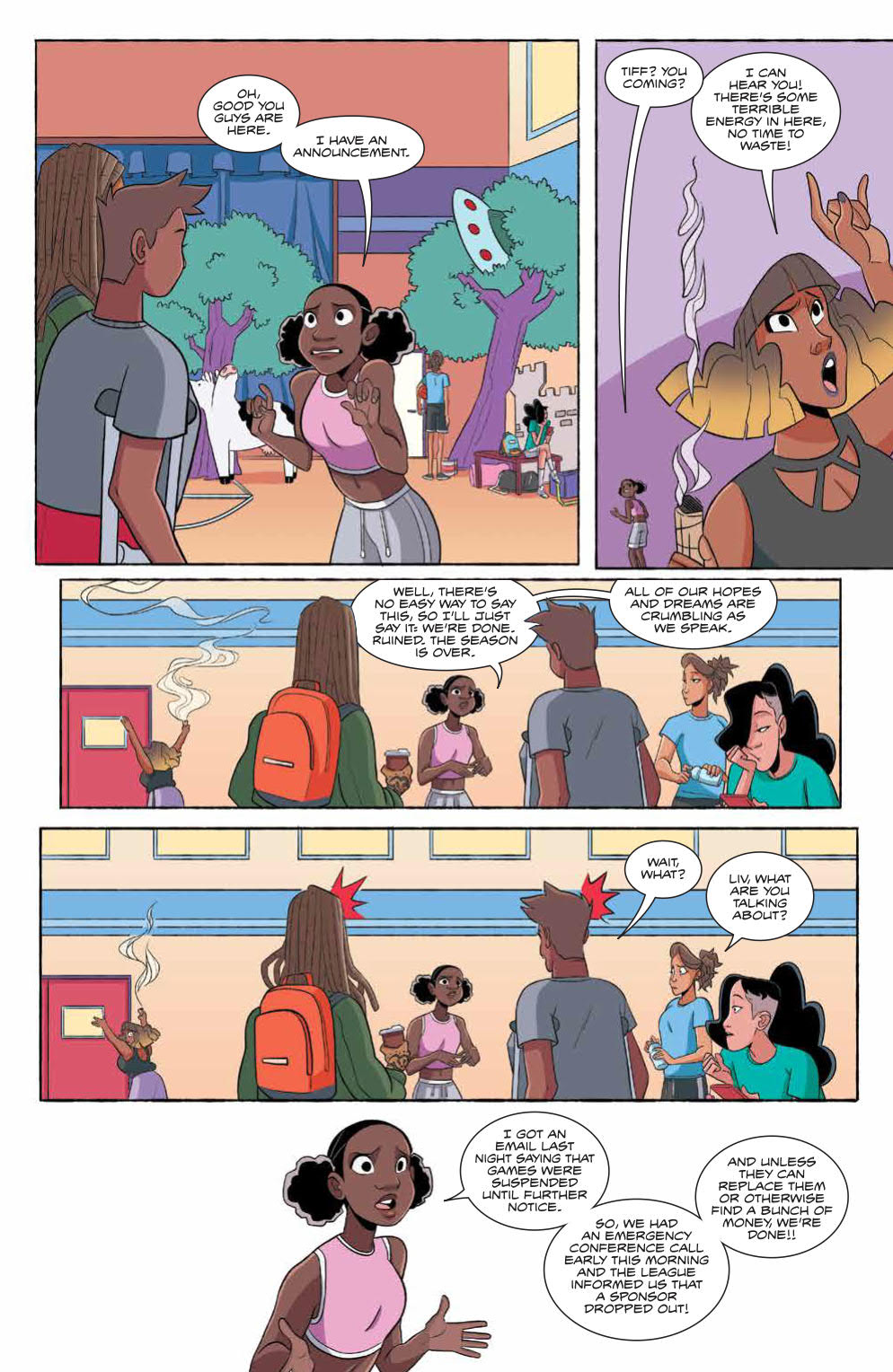 Luckily, Jay has an idea that could save the league. Jay's partner, Tyler, just happens to work at a law firm that could sponsor the league. Tyler agrees to help and they celebrate with the team. Meanwhile, Liv and Charlie's kiss leaves them both confused and frustrated. Liv insists that she has to focus on the league, but what about a secret relationship? Will they go through with it?
A New Point Of View
As in last month's issue, The Avant-Guards #5 focuses more on character than action. We get to know Jay, who has been stuck in the background for most of the series. We already know from Issue #2 that Jay was an artist, but it turns out they're quite accomplished. Additionally, they room with Ashley and they're in a long distance relationship with Tyler. From the moment Tyler enters the story, they bring Jay out of their shell. I think Jay has more dialogue in this issue than in all four previous issues combined. But around people they aren't close with, they remain pretty quiet. This is what makes them and Ashley such a great duo for the first few pages. Ashley's outgoing personality really compliments Jay's modesty.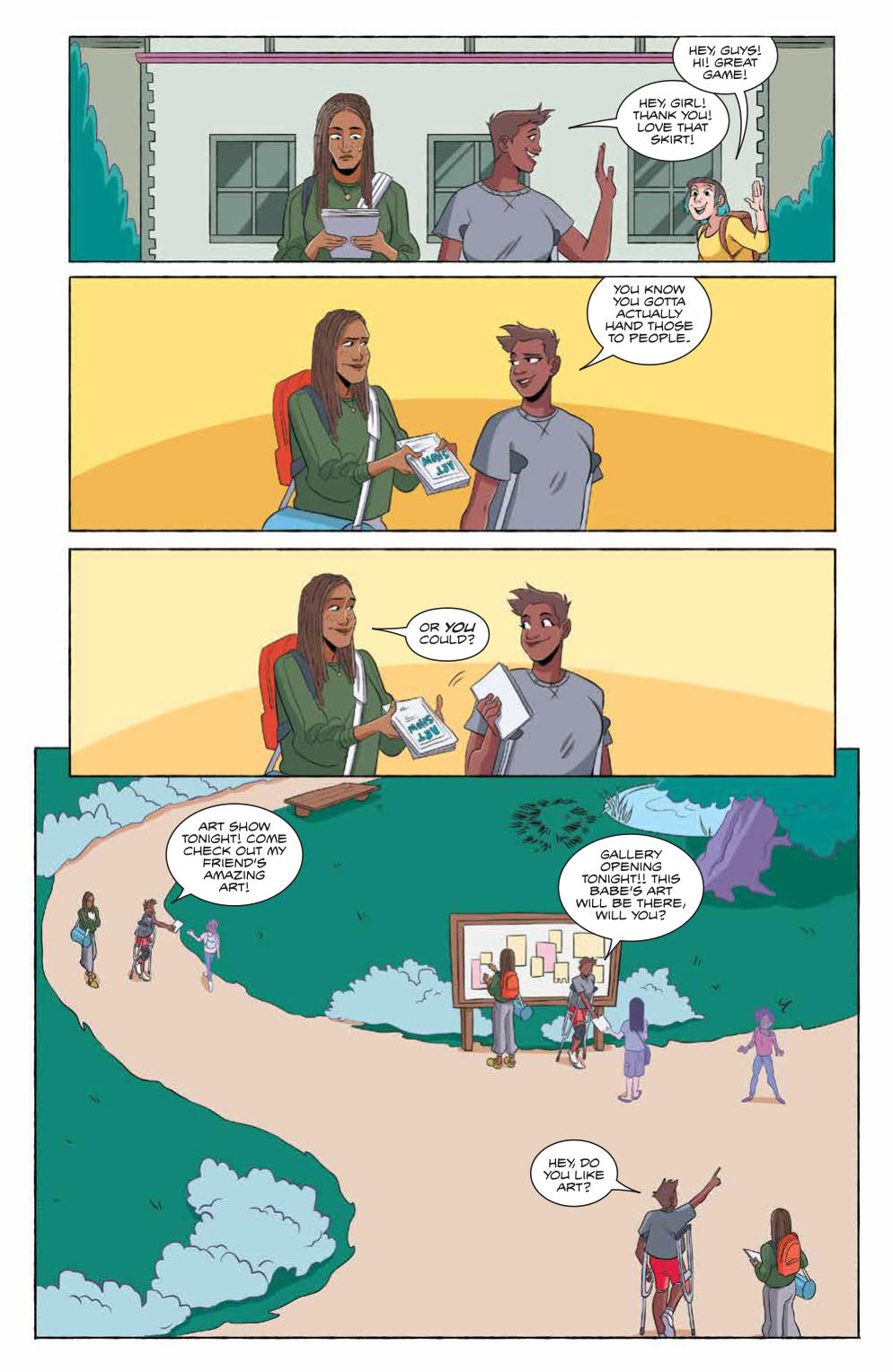 The most intriguing part of The Avant-Guards #5, however, is Jay's narration. This provides by far the most insight into Jay as a character. We've had narration from Liv before, but the two styles couldn't be more different. While Liv is very energetic and in the moment, Jay is much deeper and more philosophical. As Jay prepares for their art show they feel incredulous at their success because they exist "in the margins." Since Jay doesn't identify as either male or female, they've probably felt like an outsider before. Fortunately, Jay has found people who both accept them and celebrate them as they are.
Ships Of The Avant-Guards #5
Jay and Tyler's relationship also provides a fun contrast to Liv and Charlie's new romance. Despite being long-distance, Jay and Tyler have been together for a significant amount of time. They appear to be very open with each other and they communicate easily. On the other hand, Liv and Charlie's relationship is off to a rocky start. While they seemed to be on the same page before, they're still figuring things out.
Liv keeps giving out mixed signals and Charlie still isn't really being open about her feelings. The resulting interactions are full of frustration. But will they try to keep their relationship a secret from the rest of the team? Given that Ashley and Nicole already know about Liv's crush on Charlie, I doubt the secret will last. Perhaps Jay will be able to offer them some advice in order to get things back on track.
Grins & Grimaces
Since The Avant-Guards #5 focuses on Jay's story, the artwork is even more important. In the absence of dialogue or narration, the characters' facial expressions do a lot of the storytelling. For example, Tyler first enters the story in a text to Jay. In the next panel, Jay gazes longingly at the words. Even before we meet Tyler, one can see that Jay loves them immensely.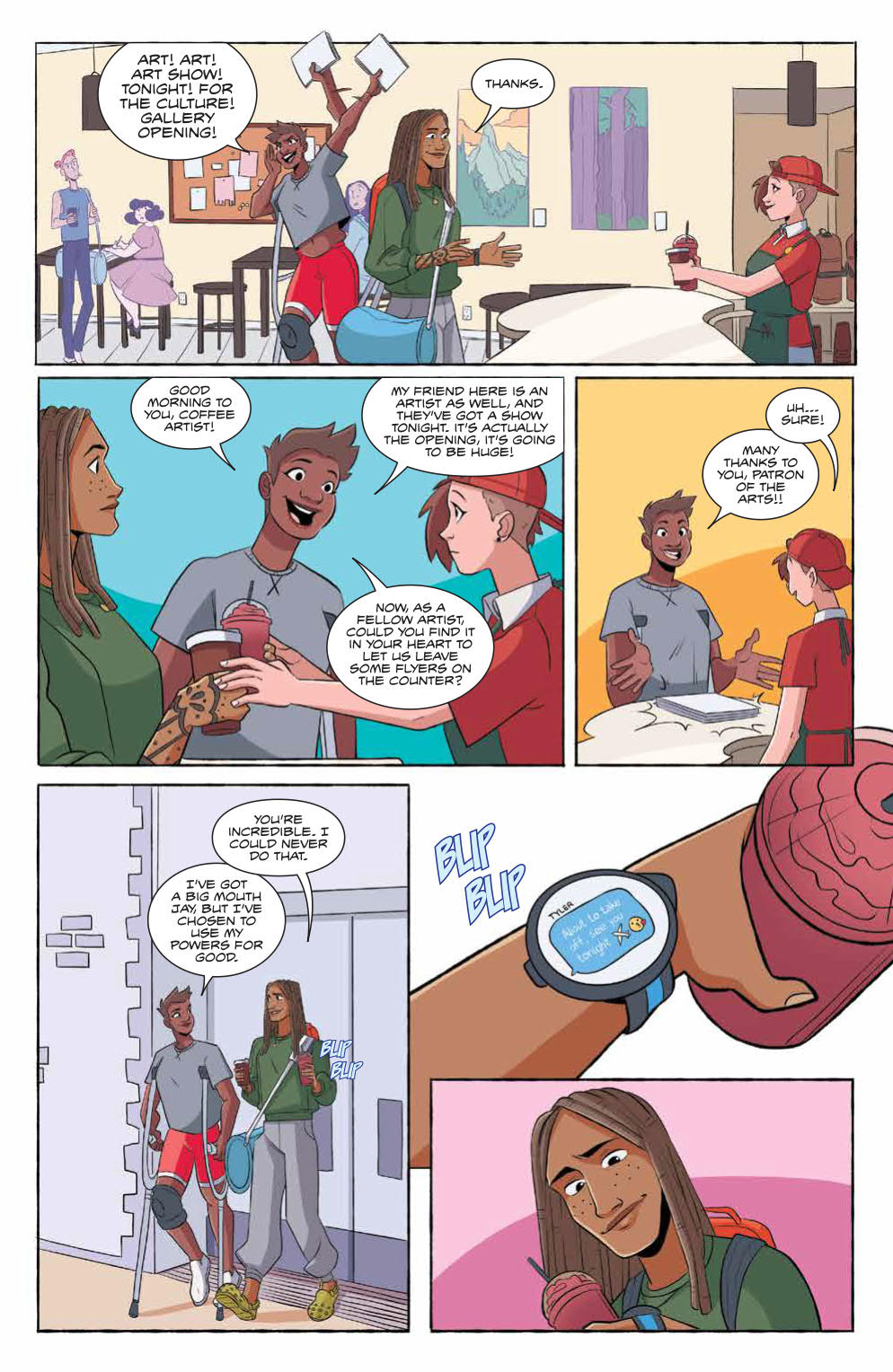 Moreover, the artists also have to create Jay's gallery, featuring a completely different style of art. Jay's art is full of color and imagination, showing just like Jay's narration that there is more to them than meets the eye.
Diving Into Character
The Avant-Guards #5 does a great job fleshing out a character that we hadn't gotten to know yet. At the same time, this issue still moved the main story forward by having Jay find the solution to the problem. I enjoyed this issue so much, I really hope the other Avant-Guards get the same treatment. We still have so many questions about Ashley, Nicole, or Tiffany. How did Nicole and Liv meet? How did Ashley break her knee? Did Tiffany just poof her way out of the art show? Hopefully, we'll find out more in the next issue of The Avant-Guards!
The Avant-Guards #5 by Carly Usdin, Noah Hayes, Tasha Neva, Jenna Ayoub, Rebecca Nalty, Kieran Quigley, and Ed Dukeshire
Hooray for Three-Dimensional Characters!
I've been waiting for more character backstories for a couple issues now and The Avant-Guards #5 delivers! We got to know Jay so well in this issue, their ins and outs and their goals in life. The writing is especially well done and the art does double duty in this issue. I really hope we get to know the other Avant-Guards as well in the future!