Just in case you haven't been outside your house lately and weren't exposed to all the awesome ornaments and jingles, let me remind you: Christmas is here. The weather is finally cold enough to have an excuse to stay inside and watch your favorite anime. To get you into the right mood for the winter holidays, we have compiled a list of the best Christmas anime series, OVAs and movies that are guaranteed to give you the right Christmas feels.
Gather your Christmas cookies and hot cocoa, and get comfy to take a look at my special present for you to get into the Christmas spirit!
---
1. Tokyo Godfathers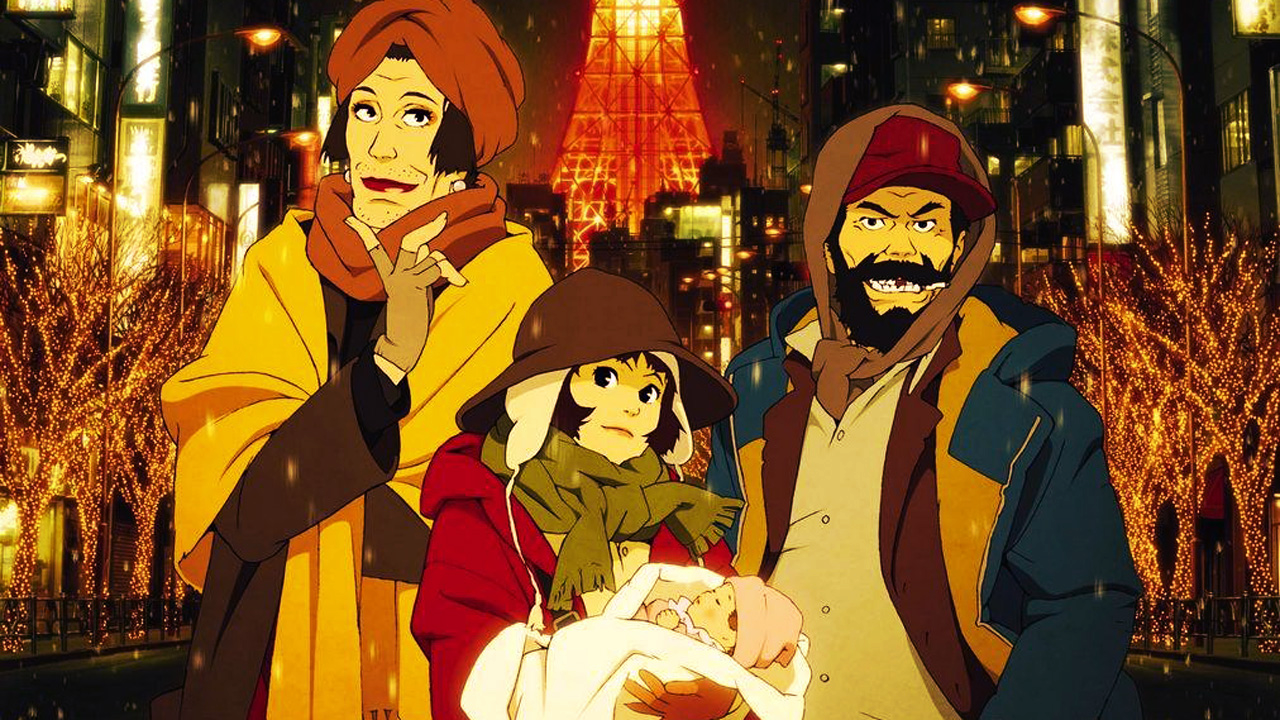 Hana, Miyuki and Gin are homeless. While going through the garbage on Christmas Eve, they find an abandoned baby named Kiyoko. Along with the baby, there are clues as to the identity of the parents, so they set out to find them. Their adventure gets them involved with the Yakuza, save people from dying and witnessing Christmas Miracles.
While exploring the issues of homelessness and social ranks, it also touches upon some really beautiful topics that are perfect for this holiday. The character development is fantastic, the art is gorgeous and the different perspectives on humanity it presents are touching. The music is great and the comedy and drama are balanced exquisitely. If you only watch one of the recommendations in this list, make it Tokyo Godfathers.
2. Toradora! (Episodes 17, 18, 19)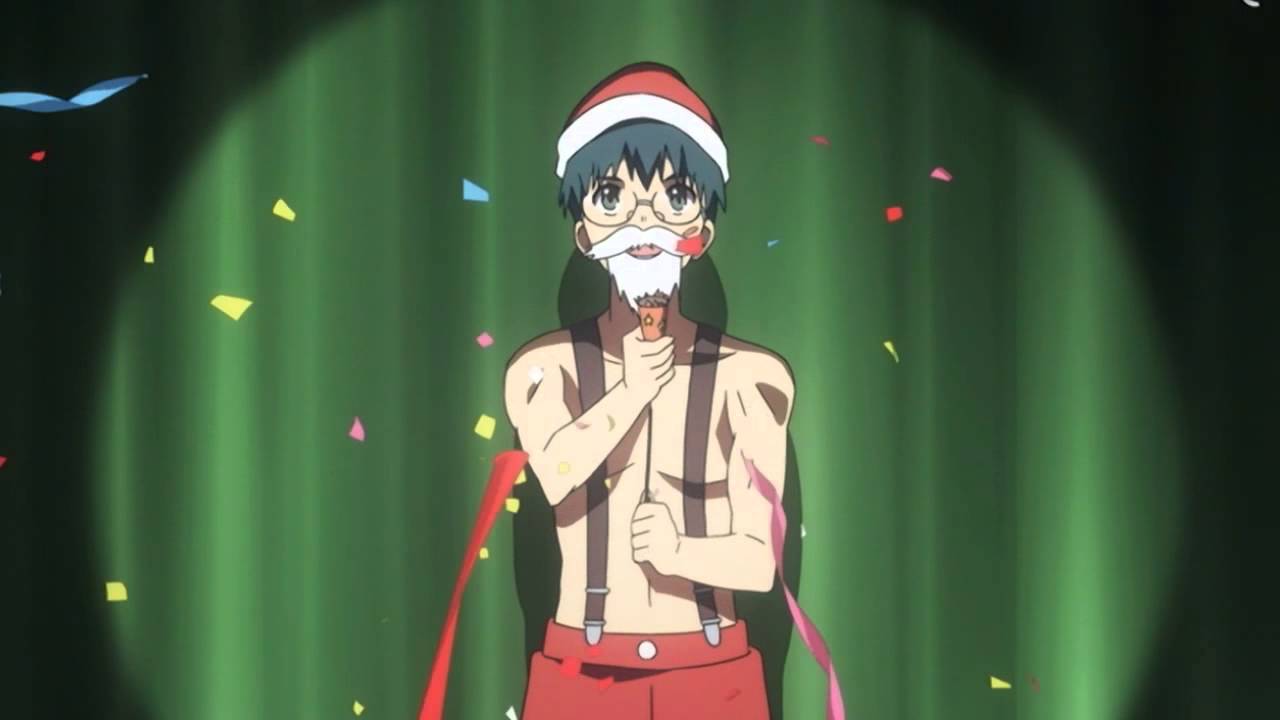 After classroom rearrangements, Ryuuji Takasu ends up in the same classroom as his best friend and his crush, Minori Kushieda. Minori's best friend is Taiga Aisaka a tiny firecracker with whom Ryuuji forms an agreement to help each other get close to their respective crushes.
While Toradora! is not a Christmas anime, it does have a huge plot point that occurs during Christmas. Being a rom-com/slice of life, you know there will be happy moments sprinkled throughout a sequence of love triangles, awkwardness and tsundere moments.
3. Ichigo Mashimaro (Episode 12)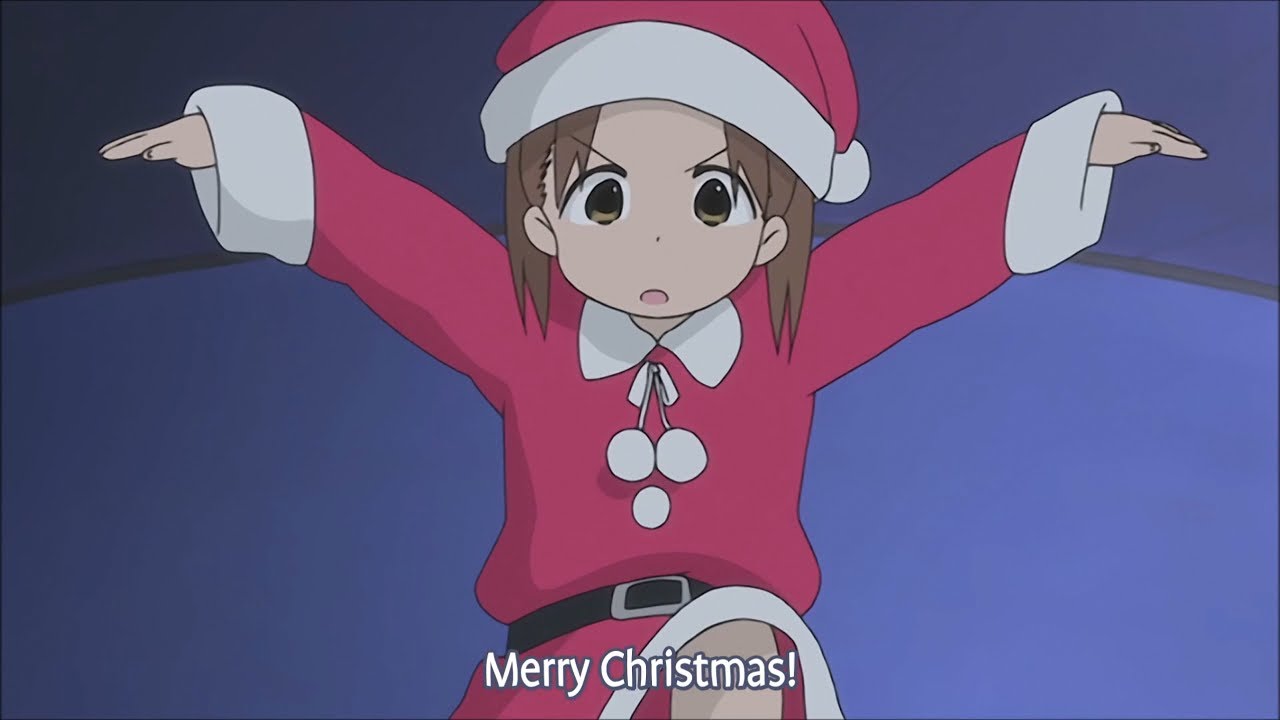 As usual this episode of Ichigo Mashimaro is filled with plenty of laughs. This is a simple little group of girls doing cute things. It has a mix of random hilarity and sweet moments between Nobue and the girls. Prepare for a cuteness overload with these girls who celebrate Christmas together. Their faith in Santa is unrelenting! I recommend it to anyone looking for a moment of leisure and relaxation during Christmas.
4. White Album 2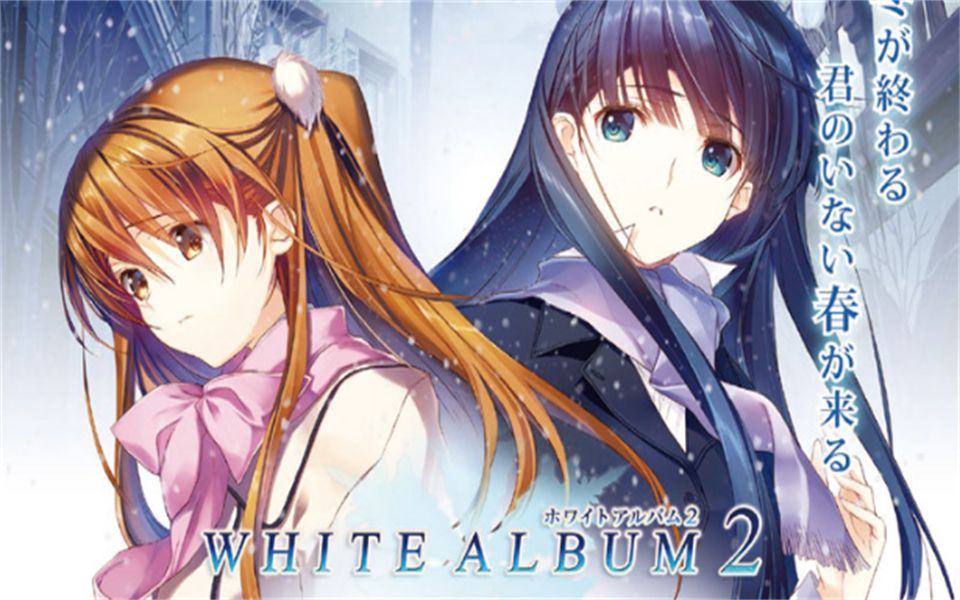 If you're into slice of life romance anime set in high school, White Album 2 is a perfect choice for a cold winter night. The art is incredibly beautiful and set on winter with a Christmas theme! Snowy scenes, romance, humor… a great anime to watch on Christmas!
5. Suzumiya Haruhi no Shoushitsu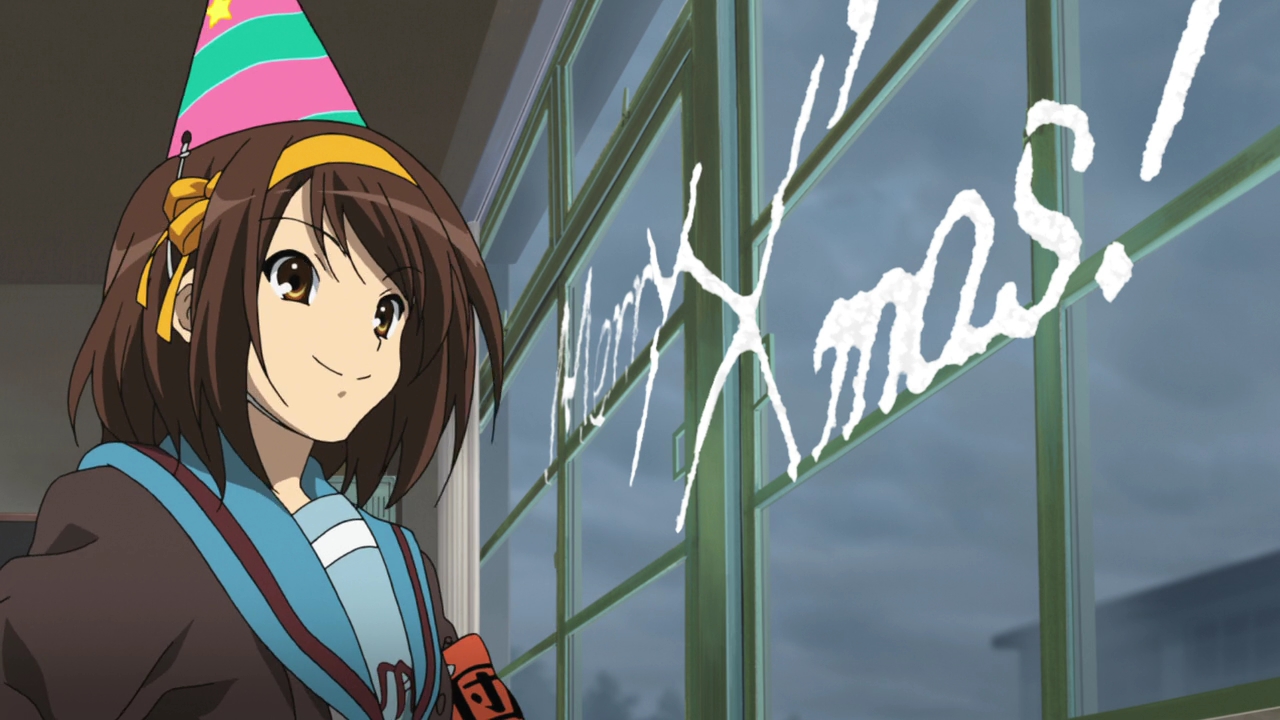 The SOS Brigade just started making preparations for their Christmas party when Suzumiya Haruhi suddenly disappears, not only physically, but from everyone's memories as well. If you enjoyed the series, this film is a great choice for the holidays!
6. 5 Centimeters Per Second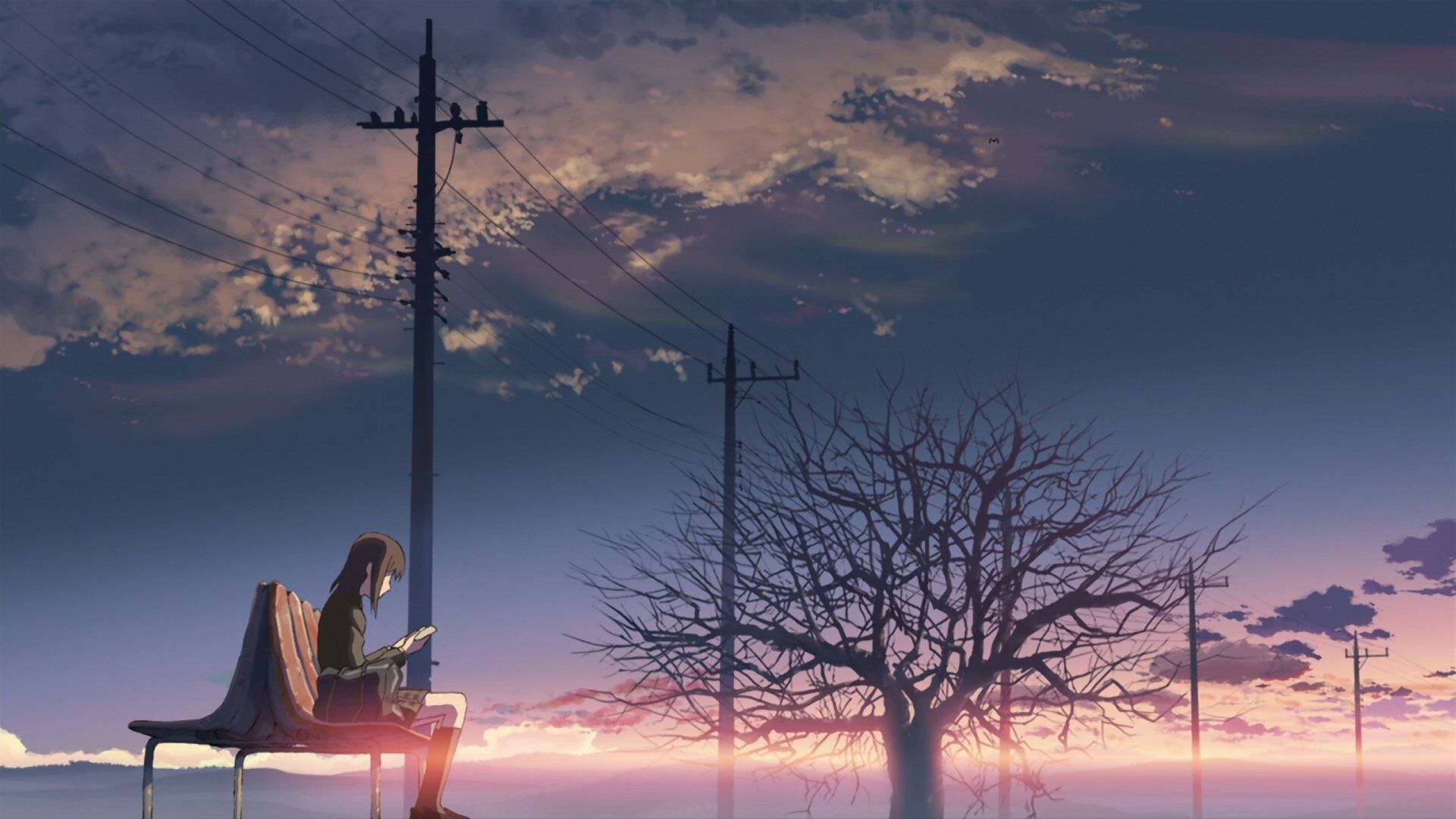 After spending years together and bonding over their shared differences, Takaki Toono and his close childhood friend, Akari Shinohara, are separated because of Akari's family's job. They try their best to keep in touch at first, but life goes on and they end up losing touch, yet never really forgetting about each other.
5 Centimeters Per Second is not an anime about Christmas, but it does tug at your heartstrings and makes you feel melancholic. It will definitely make you pick up the phone and call your friends and family you haven't seen in a while. What better time for that phone call than the holidays?
7. Minami-ke (Episode 12)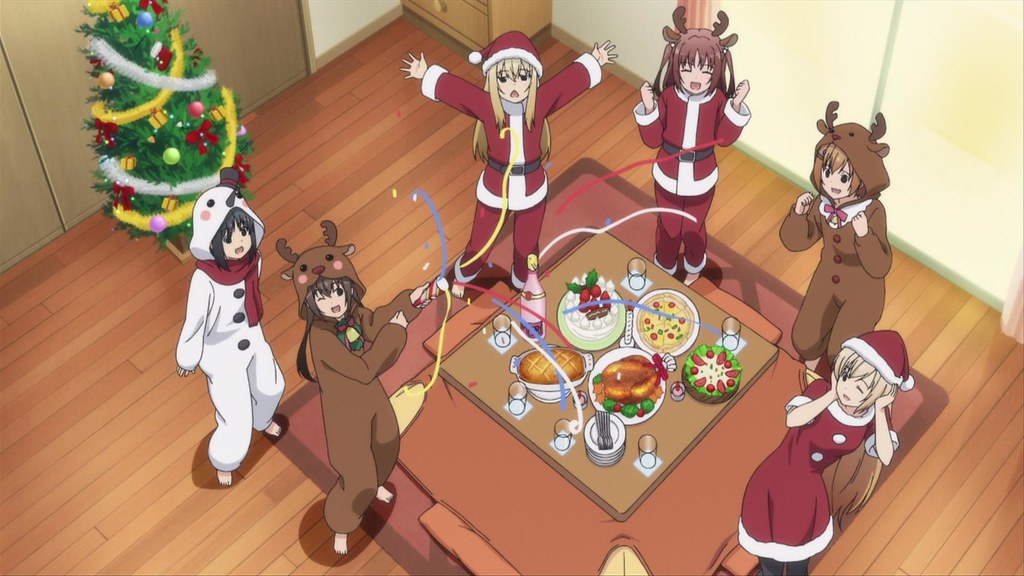 The three Minami sisters are not known to take a break. and Christmas isn't an exception. Their Christmas adventure is mostly set at home, and shows the importance of spending the day together with your loved ones. While Chiaki seems mature most of the time, she still believes in Santa Claus so it's up to everyone to keep her dreams alive. Nothing exceptional really happens, but you can really feel how the sisters care for each other and how much they enjoy spending Christmas together.
Minami-ke really brought their show to a nice ending, since the final episode after this special is set on New Year's Eve. Even though it's a short series with just 13 episodes, by the end of it you will feel connected to the characters.
8. Azumanga Daioh (Episode 17)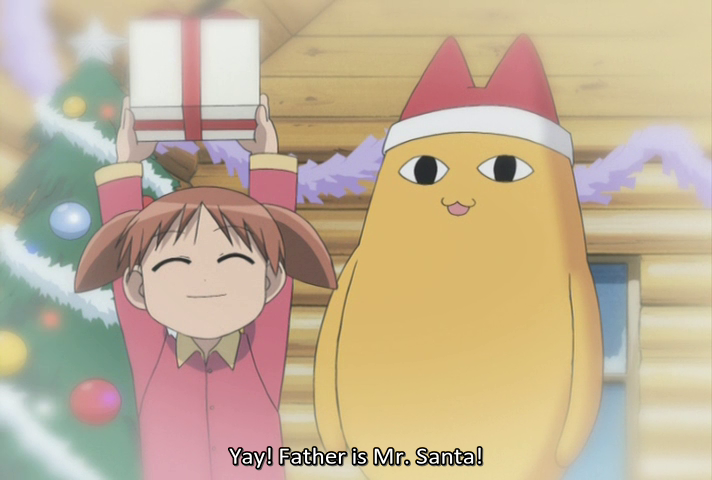 The girls argue over Santa Claus and whether he really exists. Chiyo insists that he is real and goes far enough to suggest that he is her father. The Christmas madness doesn't stop there, and the girls spend a crazy day together filled with presents, reindeer, Christmas trees and late-night karaoke.
The strength of Azumanga Daioh is the fact that it stays down to earth and really revolves around what the main cast experience in their everyday lives.
---
Holiday-related episodes can go one of two ways: they are either boring or too forced, or they will cheer you up with their special magic. The shows presented in the list above should prepare all of you for the most joyful season of the year.
If you have watched all of these already, then check out the extended version of this list, which contains a wider variety of shows for you to choose from!

---
This is a contribution post by Taimoor Hussain