As Thanksgiving has finally passed and December has officially come around, no one is allowed to tell you to shut off your Christmas music or complain about the skipping of Thanksgiving. It's finally December. You can wear your Santa hat all month long while listening to "All I Want For Christmas Is You" by Mariah Carey on repeat. If you can manage to take a break from bad Hallmark movies and peppermint mocha Frappuccinos, here are ten of the best sitcom episodes to watch before Christmas.
Parks And Recreation's "Ron And Diane" Is Barely A Christmas Special, But We Still Love It
It's actually kind of disappointing that the sitcom Parks and Recreation doesn't have a solid Christmas special. The show aired for seven seasons and all of their Christmas episodes came up a little short. You would think that with how extra Leslie Knope is, there would have been at least one episode with a huge Christmas party. Though when it comes to Parks and Recreation Christmas episodes, they tend to use Christmas in their B and C plots, while the main storyline of the episode focuses on something completely different.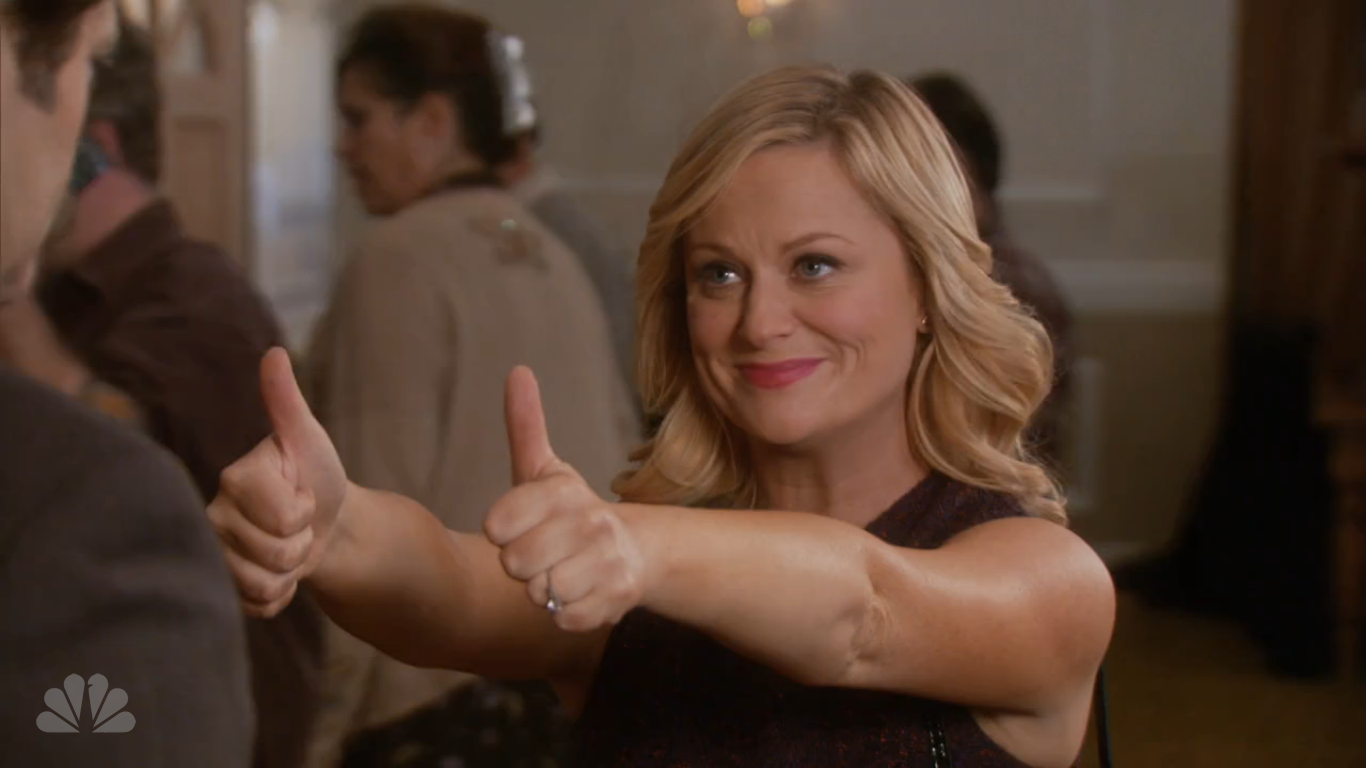 This is true of season 5, episode 9, "Ron and Diane". The main storyline follows Leslie as she tries to keep Tammy from sabotaging Ron's new relationship with Diane. However, the B plot is what makes this episode. Tom, April, Andy, and Donna have been keeping a "Jerry jar." Every time Jerry does something embarrassing, they put money into it.
They plan on using the money to take themselves out to a fancy dinner but Ann shames them about it. In addition, Jerry also throws a Christmas party that they weren't invited to, and they can't find out why. This is definitely not a full-fledged Christmas episode. But it's a good one to start with, especially if your friends are telling you it's too early to be celebrating. You can watch this slightly Christmas-y sitcom episode on Netflix.
How I Met Your Mother's "Symphony Of Illumination" Might Make You Cry
This is probably the only episode on this list that might make you cry. Most sitcoms are usually laugh out loud funny, How I Met Your Mother is almost always the same way. However, this episode deals with the rough subject of Robin finding out that she's incapable of having children. She finds this out after having a pregnancy scare with Barney. While the two of them are inevitably thrilled, Robin finds herself feeling confused about the matter. She knew that she never wanted kids, but with the option completely taken away from her, things are different.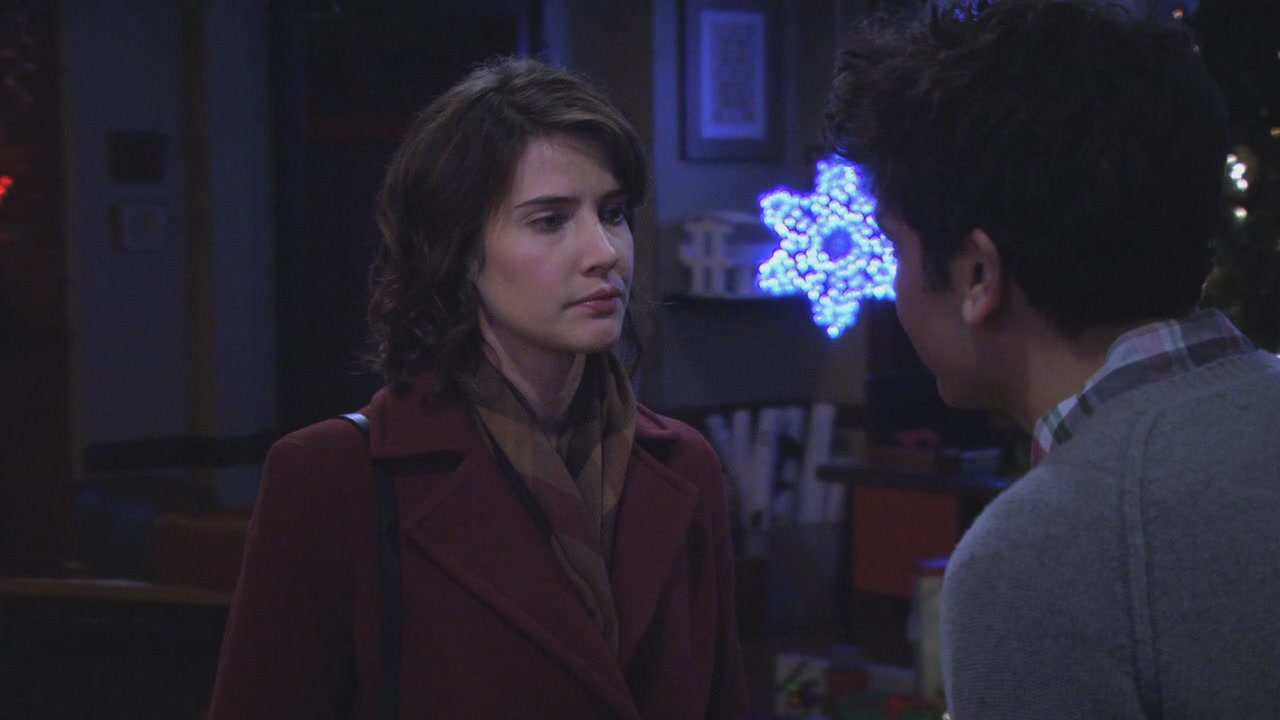 "Symphony of Illumination" is episode 12 of season 7. This episode features Robin's "children" and her talking to them in the same vein that future Ted talks to his Children. With one deeper storyline, the show balances it out with our favorite goofball, Marshall. He's setting up the decorations in his and Lily's new home when he meets a neighborhood kid who wants to help. Except, the kid isn't necessarily what Marshall expected.
If you're looking for an episode that might make you cry, this is definitely the one you should watch. It ends with a dramatic and kind gesture from Ted himself and really brings the Christmas spirit. You can watch this sitcom episode on Hulu!
F.R.I.E.N.D.S.' "The One With The Routine" Is Sitcom Gold
This falls low on the list of best Christmas sitcoms, but high on the list of my favorite episodes of Friends. The holiday episodes are some of the best Friends episodes. "The One With the Routine" is episodes 10 of season 6. It falls in a weird place for the show, because season 6 isn't one of their best seasons. The introduction of Janine was weird and no one really liked her that much. However, she makes a quick exit toward the end of the season, so she's pretty forgettable in the scheme of things.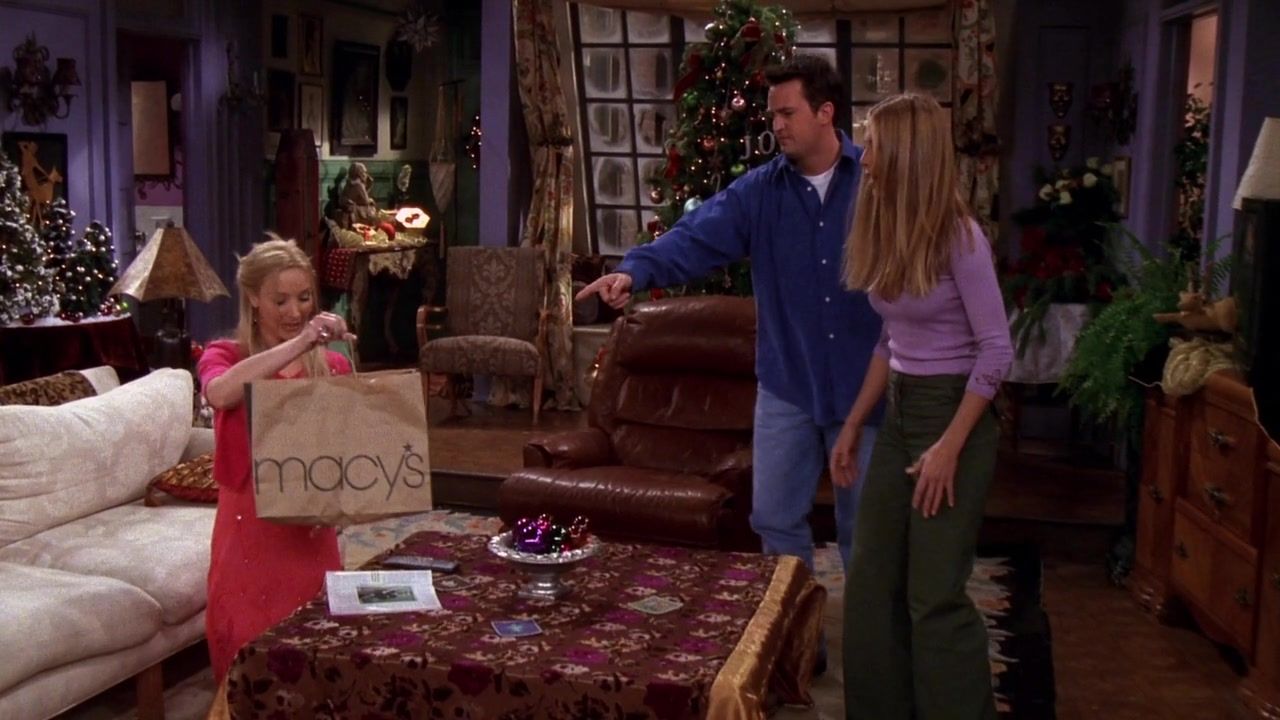 However, "The One With the Routine" makes the list of best Christmas sitcoms for two reasons. One, Phoebe and Rachel work together and sneak around to find their Christmas gifts from Monica. And two, Ross and Monica dance together on live television while embarrassing the crap out of themselves (except they think they're amazing). Also, Joey tries to get Janine to dance with him so he can get a New Year's Eve kiss.
Rachel and Phoebe rope Chandler into helping them, and Monica leaves a note behind that says, "Dear Chandler, I knew they'd break you." The best part of the episode is definitely Ross and Monica's dance performance. However, the entire episode is a gem and should definitely be rewatched to get you into the Holiday spirit. You can watch it on Netflix.
As Always Bob's Burgers Nails Holiday Episodes With "Bob Rest Ye Marry Gentle-Mannequins"
While it's obvious that Bob's Burgers really shines in the Thanksgiving episode department, it also has some killer Christmas specials. My personal favorite, "Bob Rest Ye Marry Gentle-Mannequins." Not only is it a great Christmas episode, but it captures the essence of this animated sitcom really well. If you haven't seen any of Bob's Burgers, you could watch this episode and easily understand what's going on.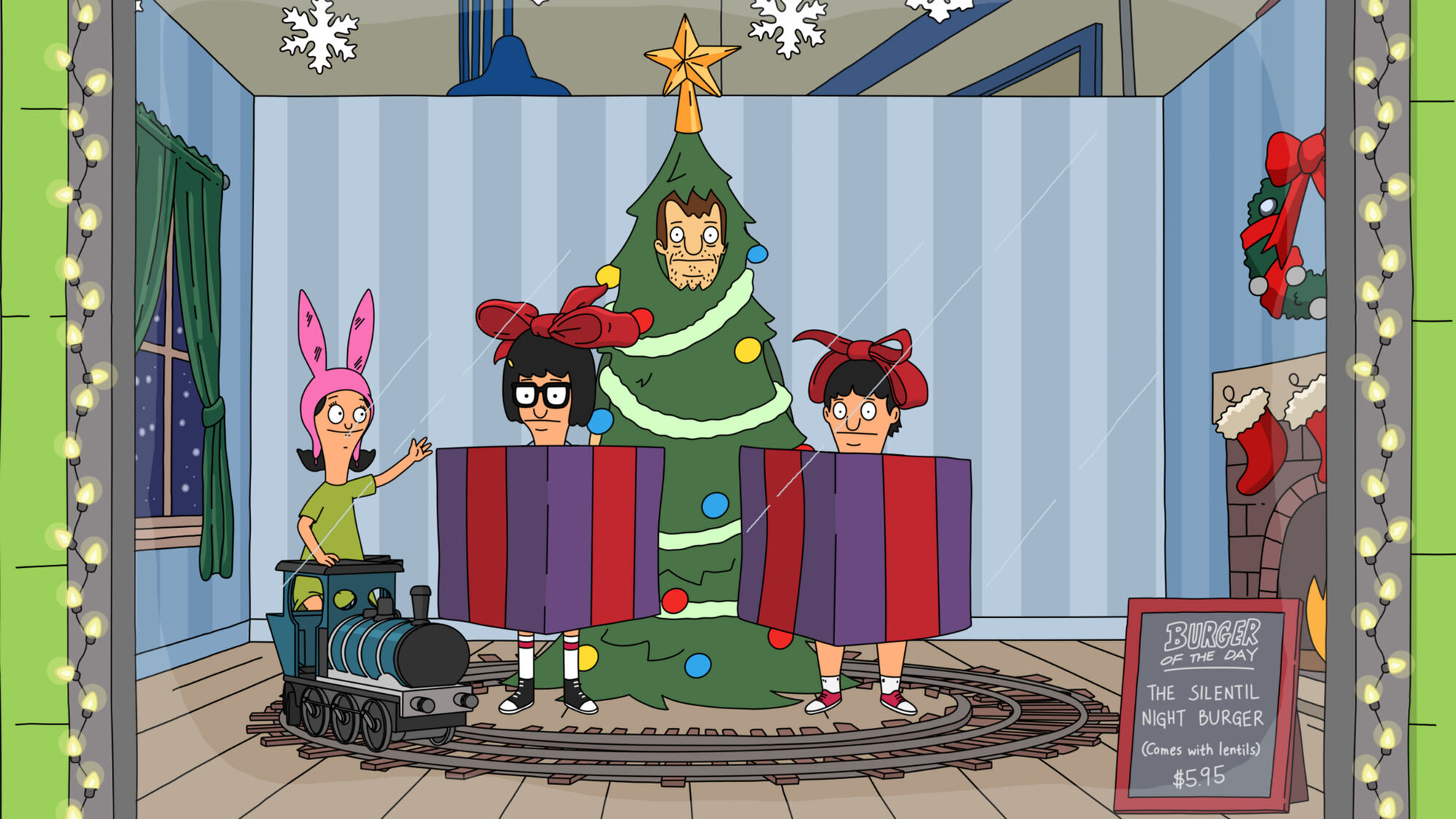 It's beginning to look like a bleak Christmas for the Belcher family again this year. The kids wrap remotes and other household items to give to their parents, and Bob and Linda try to think of some way to get the kids something nice. All of a sudden, a relative of Bob's dies, and he's named in the will. Unfortunately, there's no money involved, just an old storage unit with a strange man inside. A man who thinks that he used to be a mannequin. When the kids believe him, they begin to help him look for his long lost mannequin girlfriend so they can save Christmas.
This has to be one of the funniest episodes on the list, and while Christmas isn't at the forefront of the episode, it is inherently a Christmas special. You can watch this sitcom on Hulu.
How I Met Your Mother's "How Lily Stole Christmas" Is Petty Lily At Her Finest
How I Met Your Mother has to be one of my favorite sitcoms of all time, for that it appears twice on this list. It does a great job with its Christmas episodes, though they all tend to be a little tense. "How Lily Stole Christmas" is episode 11 of season 2.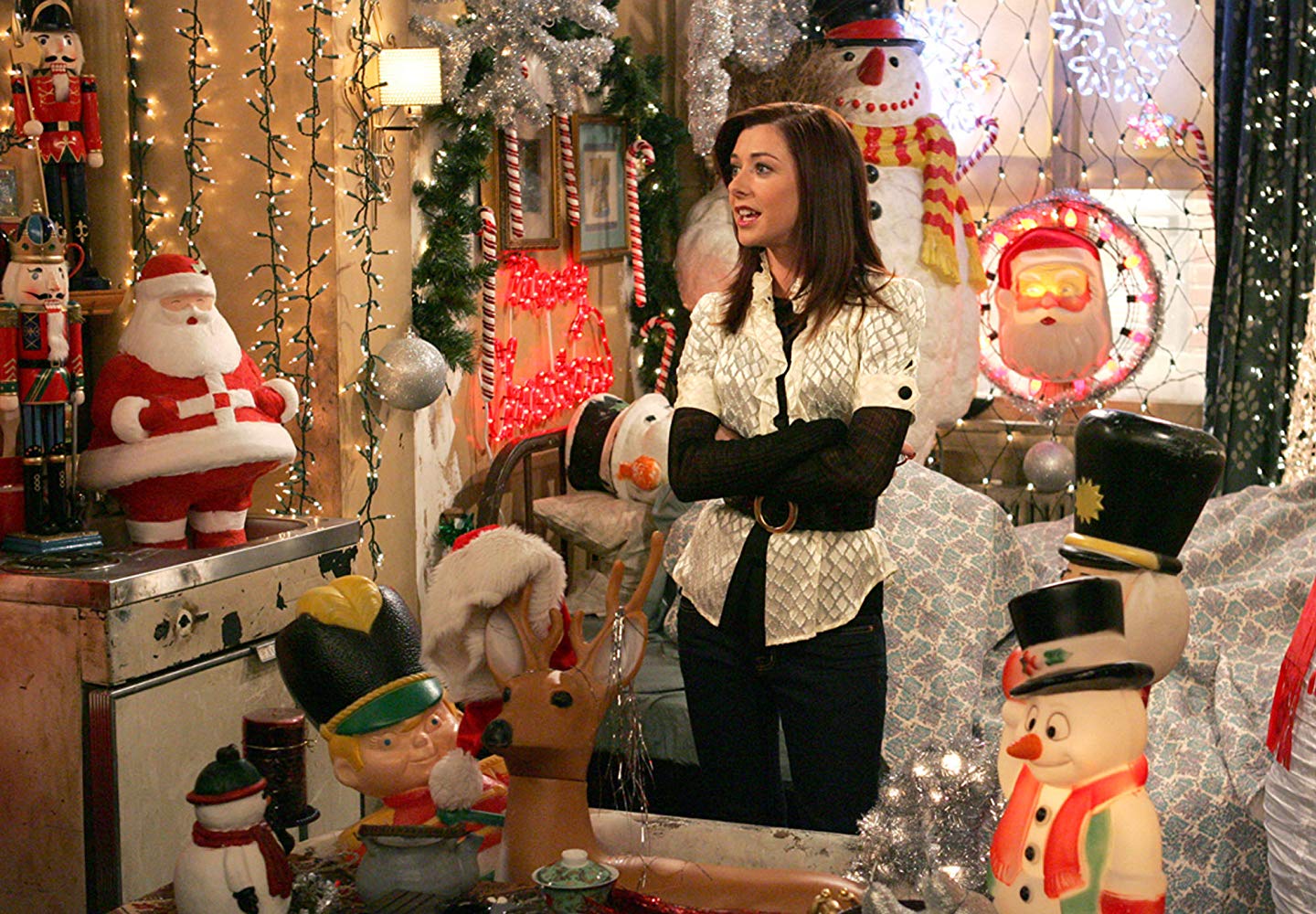 This episode is earlier in the show's history, right after Lily returns from her break from Marshall. She previously had called off their engagement to pursue art on her own. This left Marshall completely devastated. Ted did what any best friend would do in a time like this. He trash-talked Lily and called her some pretty bad names. When unpacking Christmas decorations, Lily finds a phone with a voicemail on it. In the voicemail, Ted calls Lily an incredibly bad name which Ted from the future censors as "Grinch."
After Lily confronts Ted about the name he tells her that she was kind of being a "Grinch." Lily doesn't like that and steals Christmas. It's a fun episode watching Lily react to things that happened in the time that she was gone. Petty Lily has always been my favorite Lily. You can watch this episode on Hulu.
New Girl's "LAXmas" Is An All-Around Amazing Sitcom Episode
The sitcom New Girl has always had a special place in my heart, and it was tough to choose which Christmas episode to put on this list. However, "LAXmas" has always been my favorite just because of how creative it is. The entire episodes takes place inside an airport. However, they still find a way to make it incredibly Christmas-y and fun.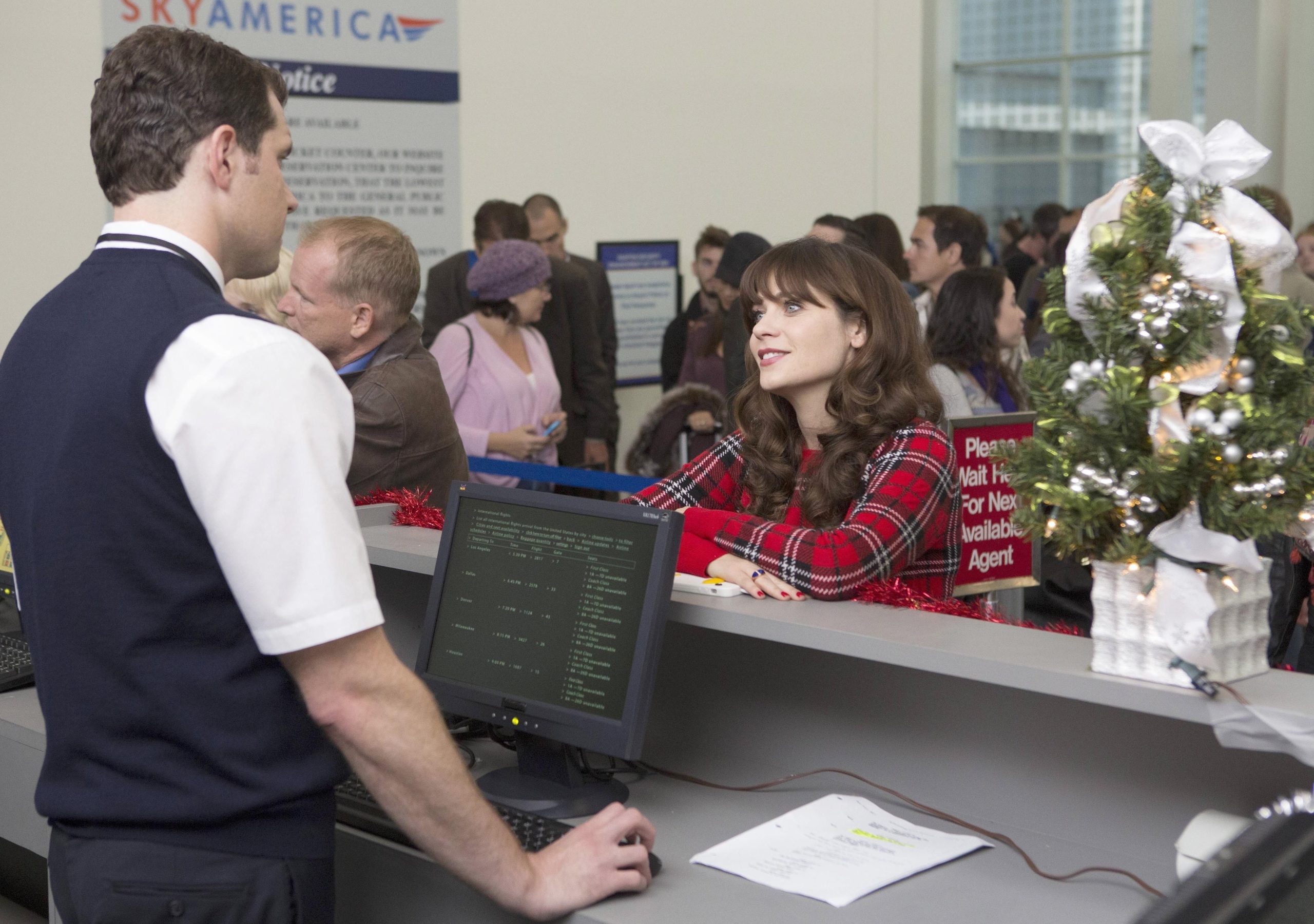 "LAXmas" is episode 11 of season 4. The entire gang plans to go out of town for the Holiday and decided to carpool to the airport so they can hang out before their flights. As soon as they get to their airport, they realize every single flight has been delayed. Jess gets everyone (for the most part) on new flights. Cece and Schmit hang out in the first-class lounge while Jess finds out just how rich her new boyfriend is.
While Jess gets drunk at the bar, she meets someone who looks just like Santa Clause. By far the best line from the episode is, "Nick, this is first class. Act like you've been somewhere before." This has to be the episode on this list with the most heartfelt ending, and that's probably why it's my favorite New Girl Christmas special. You can watch it on Netflix.
F.R.I.E.N.D.S. Makes The List Again With "The One With The Holiday Armadillo"
Of course one of the best sitcoms of all time has to make a second appearance on this list. "The One With the Holiday Armadillo" has to be one of the most unique Christmas specials. In the classic Friends sense, nothing is just a Christmas or Thanksgiving episode. They find a perfect balance between including the holiday and having an interesting plot on top of it.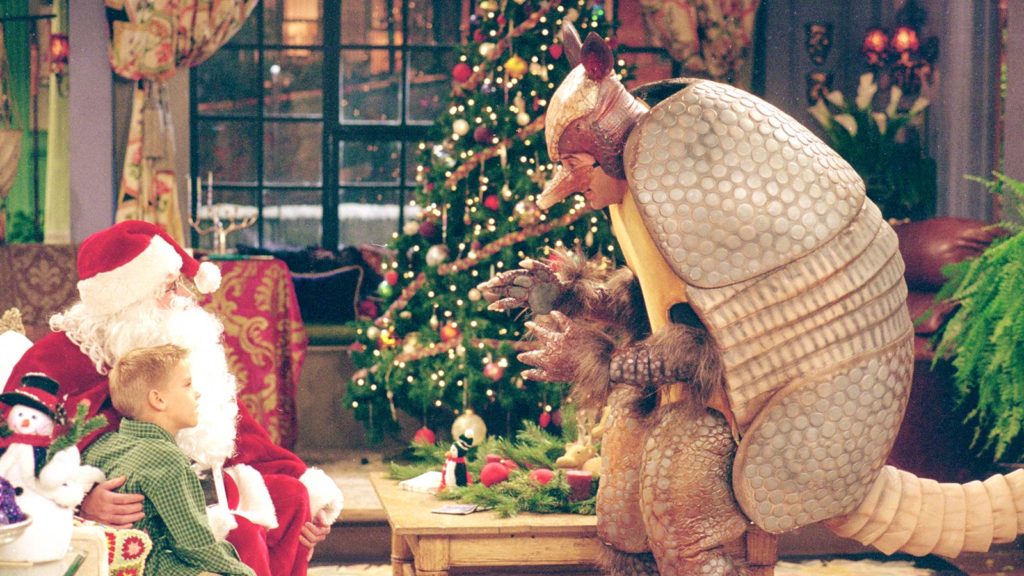 "The One With the Holiday Armadillo" is episode 10 of season 7. In the episode, Ross decides that his son Ben is ready to learn about Hanukah. However, Ben isn't really interested and would much rather celebrate Christmas. Ross tries to get a Santa costume but can't at the last minute. He instead ends up in a giant Armadillo costume, teaching Ben about Hanukah.
And then, of course, Chandler walks in at the last second wearing a Santa costume. It's a great episode, and one of my favorites for sure. You can watch this episode and the rest of the sitcom on Netflix.
And, Of Course, Seinfeld's "The Strike"
I wouldn't even think to make this list without the inclusion of "The Strike." Seinfeld is often spoken about as one of the greatest sitcoms on television, and their Christmas specials are no different. They created a new holiday that people will never forget.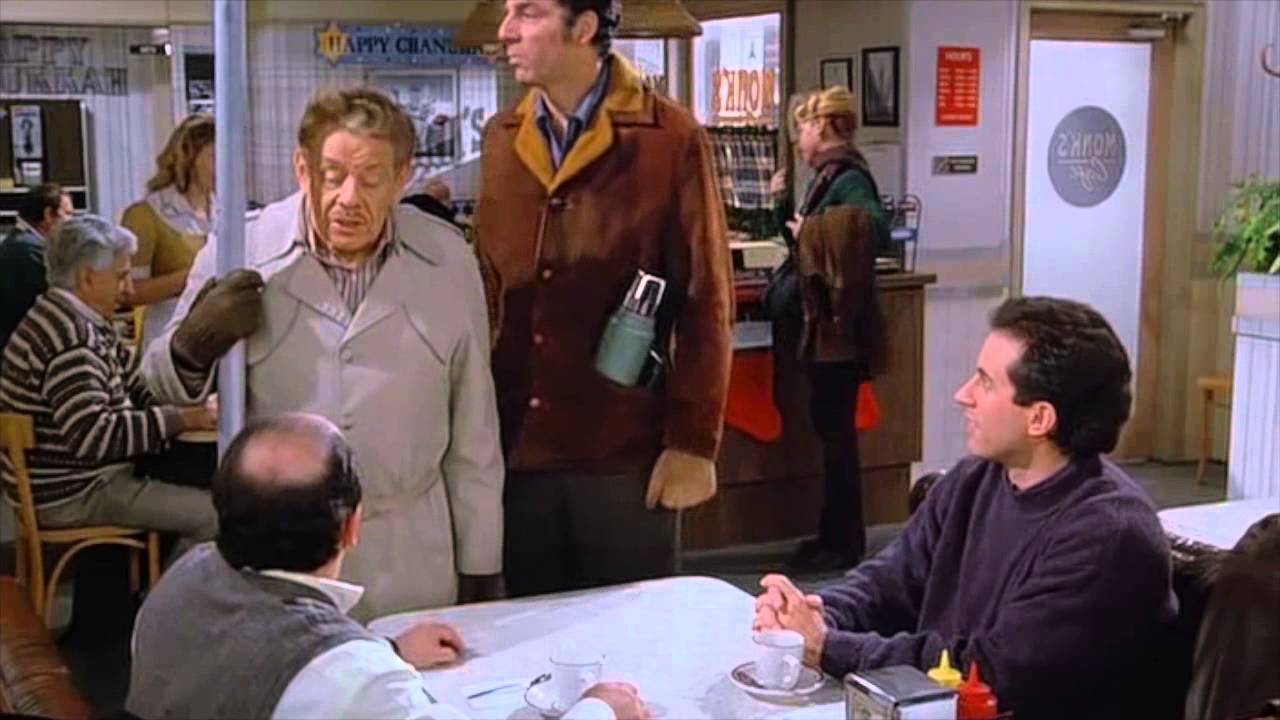 "The Strike" is season 9 episode 10. Elaine reads a holiday card addressed to George that reads, "Happy Festivus." Festivus is a holiday that George's father made up and celebrates. Kramer becomes fascinated with the idea of Festivus and meets up with George's father (Frank) to learn more about the made-up holiday. When Kramer's request to take Festivus off from work is denied, he goes back on Strike. In this episode, Elaine also gives someone a fake number after he asks her out.
If you want to learn about the magic that is Festivus, or you're already a die-hard fan like Kramer, you should definitely watch this episode before Christmas (or any time of the year). It's available for streaming on Hulu!
Jake Lives His Die Hard Dreams In Brooklyn Nine Nine's "Yippie Kayak"
Brooklyn Nine Nine falls in the same category as Parks and Recreation. They don't have a ton of Christmas specials to choose from. However, where Brooklyn Nine Nine differs is in the quality of its best special. "Yippie Kayak" is not only my favorite Brooklyn Nine Nine Christmas special, but one of my favorite episodes altogether. It's episode 10 of season 3.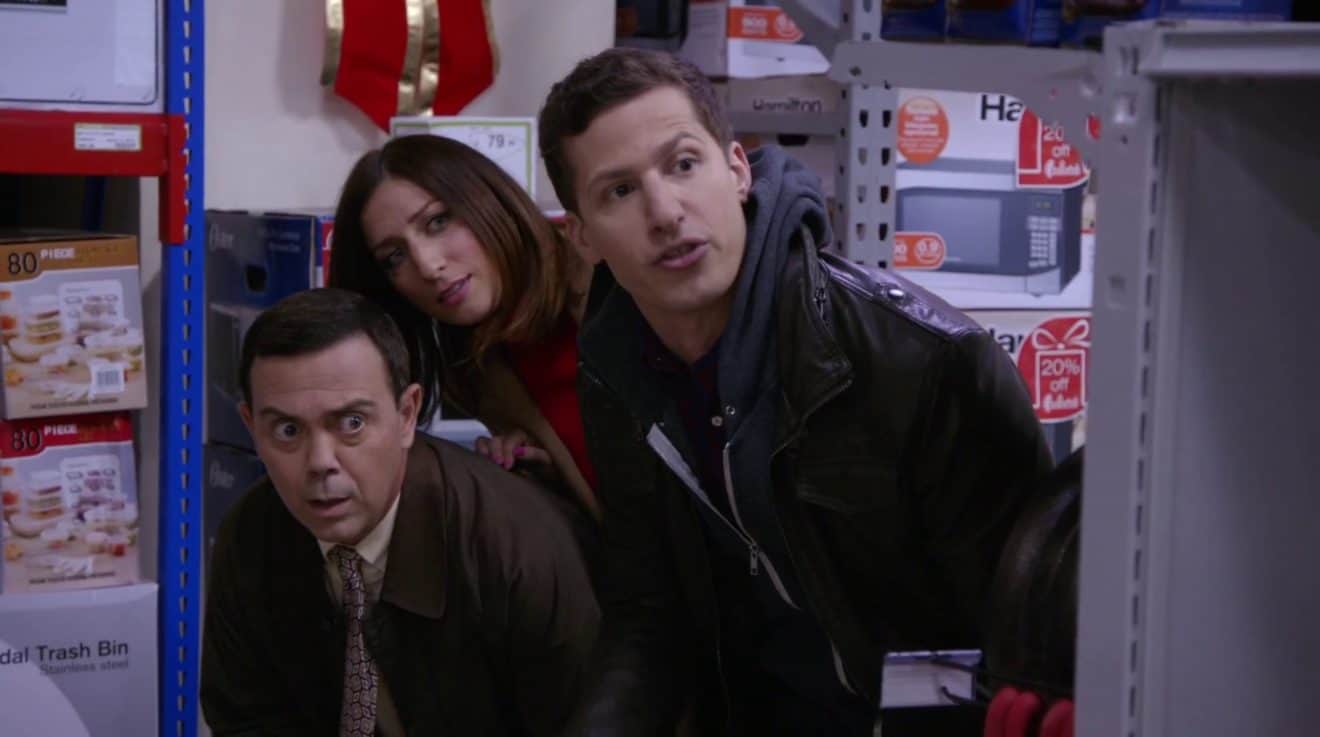 In this episode, Jake tells Charles that he forgot to get Amy a Christmas present. Charles insists that the two of them go shopping right away so he can pick out a gift for her. When in reality, Charles is the one that Jake forgot to shop for. Gina invites herself along because she loves the drama. Midway through their shopping experience, the place is robbed and hostages are taken. Jake gets to live his Die Hard dreams to break the hostages out… or does he?
Meanwhile, Amy tries to convince herself to do a polar ice dip with Captain Holt and Rosa. If you're a fan of Brooklyn Nine Nine, this is definitely an episode to have on your list. And if you aren't a fan, well, you can watch the entire series on Hulu.
The Sitcom Christmas Special To End Them All: The Office's "Christmas Party"
You know I couldn't get away with not having an episode of The Office on this list. If you ask anyone what their favorite sitcom is, The Office comes up at least a few times. In research for this list (asking my friends what their favorite sitcom Christmas special was) I got the "Christmas Party" from every single person. "Christmas Party" is one of the most cringy, awkward, and hilarious episodes of television I've ever seen; if you're going on a Christmas sitcom binge, this is simply one you must watch.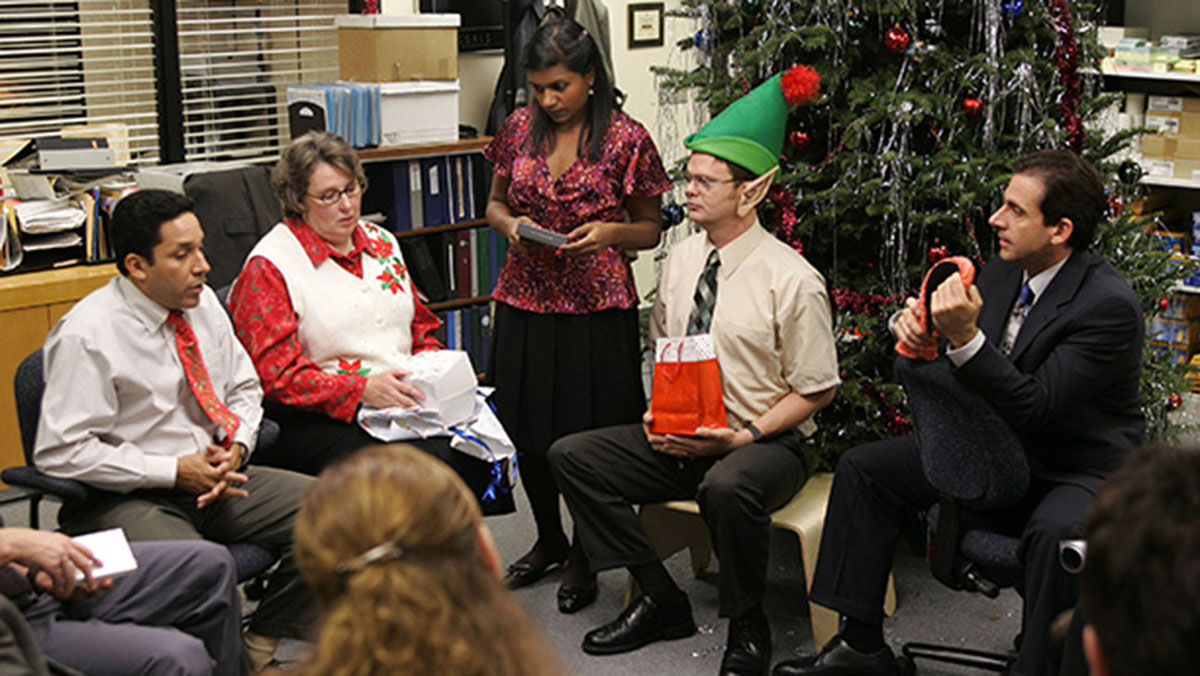 The Office does Holiday episodes better than any other show I've watched. They're enjoyable, funny, and incredibly uncomfortable, just like the rest of the show. "Christmas Party" is episode 10 of season 2. Michael throws a party for everyone in the office. They decide to do a Secret Santa and draw names. Michael gets Ryan and buys him an iPod that is way over the price cap. Things go wrong, Michael gets mad and changes the Secret Santa in a Yankee swap.
"Christmas Party" is peak The Office, where Jim is still pining after Pam, Michael is more insensitive and rude than ever. If you want to watch complete mayhem, this episode is definitely for you. You can watch this episode and the entire series on Netflix (although, you probably already knew that).